"You have snowflakes in your hair!"
"What are those white things on your coat?"
"Why are you always wearing a hat?"
All the above is just some of the annoying things men with a dry scalp or dandruff have to endure, especially during the winter season.
But what these same men should know is they aren't alone.
A dry scalp and dandruff is more common thank you might think — The Washington Post reports that "According to experts, somewhere in the neighborhood of 50 million Americans have it, to a greater or lesser extent," meaning around 1 in every 5 people deal with the pesky flakes on their head.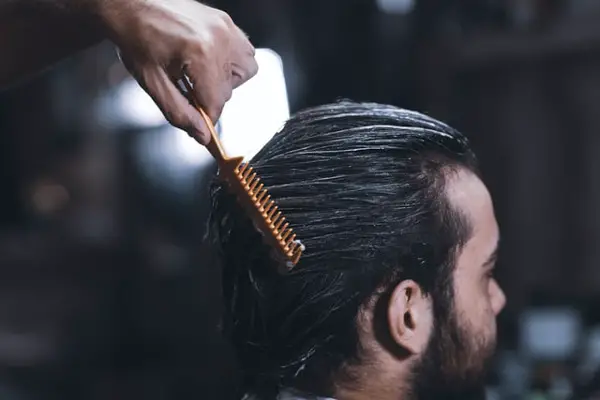 The Highest Fashion wants to help — so let's dive into the 411 on what you can do if you are tired of these flakers!
What Shampoo is Good for Anti Dandruff
If you want the dandruff to stop forming on your scalp, regular men's shampoo just won't cut it. Shampoo that you have to use must — and we mean must — be sulfate-free.
Once more for your notice: people with dandruff should avoid sulfates at all costs.
Antifungal shampoos are also great ways to defeat this condition because some dandruff is an origin from a fungus called malassezia triggers dandruff.
According to Healthline, "this fungus normally lives on your scalp" and "causes skin cells to multiply more quickly than usual."
Other causes for dandruff include:
Irritated scalp
Not showering/shampooing enough
Older age
Cold or dry air
Contact dermatitis (something that occurs when your scalp has a bad reaction to a certain shampoo, gel or hair product)
Other kinds of shampoo you should keep on your radar to ward off scalp flakes:
Shampoo with a tar-base
Shampoo with zinc pyrithione as an ingredient
Selenium or ketoconazole shampoos
If you want to try some at home remedies for itchy scalps and dandruff, check out this awesome video:
Also, check this article where we review the best moisturizers for dry and sensitive skin.
Best Men's Shampoo for Dandruff — Anti-Dandruff
So, now that you know the shampoo you should be looking for and have started dabbling with ingredients that can give your scalp a rest, wouldn't it be nice if you already had some household anti-dandruff shampoo leads?
We thought so, so why don't we get started and share the best men's shampoo for dandruff?
Leanor Greyl Paris Gentle Dandruff Treatment
This specific shampoo works its magic by restoring moisture to your hair and scalp and prevents the itchiness that dandruff or dryness can cause.
Made from natural ingredients including bee propolis, this shampoo is home to antiseptic properties that will hone in your investment — it's not a one-time treatment, but a constant source of nourishment for your hair.
Nizoral Anti-Dandruff Shampoo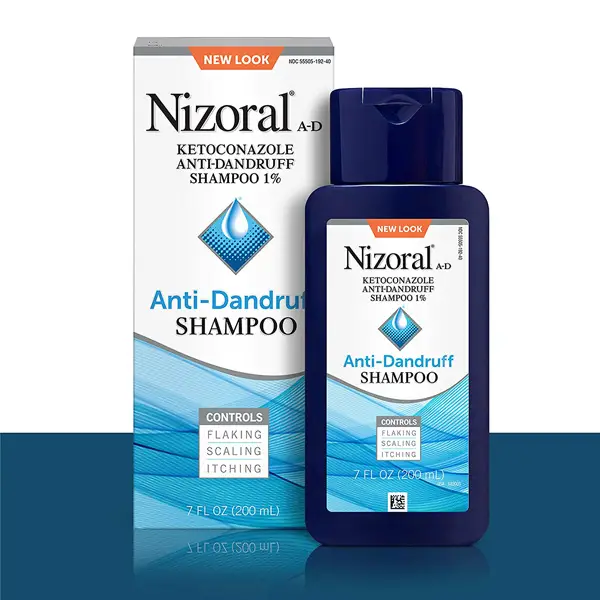 Ranked No. 1 in Amazon's "Hair Shampoo" and "2-in-one Shampoo & Conditioner" categories, this shampoo has Ketoconazole as its active ingredient, meaning it fights dandruff with an antifungal agent.
Fresh-scented and salon-tested, Nizoral is especially perfect for men with color treated hair or grey hair.
Sachajuan Shampoo
Not only is this shampoo aesthetically pleasing, it also is a perfect one to own if you want to conceal exactly what you need it for (yes, it's not always fun shining a light on the fact you have dandruff.
This brand especially focuses on soothing scalp irritation as its salicylic acid helps to delicately shed dead skin, while simultaneously buttressing new scalp cell growth. With a rosemary scent, this shampoo is relaxing, refreshing and uses ginger and menthol extract for a nurturing effect.
Head and Shoulders Anti-Dandruff Treatment
Most of this brand's products are meant to combat the world of red, itchy scalps and white flakes that annoyingly form in your hair at the most inconvenient of times. This particular combo, however, seems to be the crowd favorite — and we can see why!
This dual dandruff prevention is able to hydrate and cleanse your scalp with its rich-lathering formula meant for all men who want to forget their flakes. Itches begone! Using pyrithione zinc as its active ingredient, this shampoo and conditioner is not only effective but also cost-effective given its vast amount all at once. Convenience is key, always.
Kiehl's Amino Acid Shampoo
Some brands just have the legacy, reputation and tradition along with the stamp of approval. Kiehls is one of these brands, given its vast history in sustainability and philanthropy. According to their site, Kiehls products go back all the way to 1921, with the Division of Medicine and Science at the Smithsonian National Museum in Washington, D.C housing 103 products and artifacts from the supplier.
And the brand delivers its groundbreaking science in this coconut oil shampoo. Cleaning and softening the hair, this shampoo adds volume will soothes sensitive scalps that get irritated easily. Made of amino acids and hydrolyzed wheat protein, moisture and soothing senses are guaranteed.
Davines Purifying Shampoo
Fighting microbes that can cause flakes and the bully dandruff itself, this shampoo is intensive and intuitive. Even the most irritated scalps are no patch for this clarifying and detoxifying shampoo that stabilizes and purifies hair.
This shampoo hails all the way from Parma, Italy!
Dove Dermcare Scalp Anti-dandruff
With high dandruff defense, this dermacare shampoo takes no white flake prisoners. A 2-in-1 shampoo and conditioner, this Dove wonder is able to improve scalp health for men of all ages with all hair types.
Most importantly, the shampoo is made with caffeine and pyrithione Zinc which bolsters hair so it looks healthy, vibrant, thick and resilient.
Pete & Pedro Control
The name gives it all away — this shampoo controls your dandruff and your itchy scalp by using 1.8% coal tar and 1.5% menthol. "Coal Tar is one of the oldest and most popular ingredients to help combat dandruff caused by seborrheic dermatitis and scalp psoriasis," the site writes. "Menthol provides cooling relief of itching along with a pleasant scalp tingle and stimulation."
Not only is this shampoo sulfate free, but also, it's paraben and silicone free. All natural and moisturizing — Pete and Pedro sure know how to give your hair the treatment of a lifetime.
Best Men's Shampoo for Dry Scalp
Do you see that your dandruff isn't from any fungal cause or irritation but just a dry scalp due to cold weather or shampoo that doesn't moisturize enough?
This section is for you.
Here are some quick hacks to quickly handle dandruff from a dry scalp if you're on the go:
If you're looking for permanent shampoo solutions, let's dive into the following shampoos perfect for dry scalps:
Aveeno Scalp Soothing Apple Cider Vinegar Blend Shampoo
This shampoo not only sounds delightful but also is all about shine and volume. Its farm-fresh inspired ingredients nourish a dry scalp while is sulfate and paraben free so hair is soothed from root to tip without harm.
The apple cider vinegar is able to cleanse the scalp and lessen irritation so that the flakes can wave goodbye!
Moroccan Oil Hydrating Shampoo
Gentle and cleansing, this shampoo is anti-oxidant filled argon oil that is rife with vitamin A and vitamin E along with red algae. All these nutrients harness moisture and bring this to the scalp so there's no room for dryness.
Hydration-inducing oil shampoos like these are key to dry scalps!
Regenerating Hair Care Mask
Although this isn't a shampoo per say, this hair care mask uses four botanical oils to help the scalp and hair work together harmoniously. Regenerating and rejuvenating, this hair care mask's whole purpose is to bring the life back to your scalp without the flakes coming with it.
The formula for this mask is built upon plant extracts, minerals, proteins and vitamins like shea, camellia and hazelnut. You'll smell good, look good and notice a change in the creamy texture of your locks and the hydration of your scalp.
Aveda Scalp Balancing Shampoo
This particular shampoo is able to nurture the hair by using burdock root, echinacea and sage. Because some dry scalps happen when too much oily clumps get stuck in the hair, this shampoo is able to clean down to the root and remove those clumps and excess sebum.
Best part? The packaging is responsible with minimum 80% post-consumer HDPE and Aveda manufactures its packaging with 100% wind power. Sustainable!
Formulate
Now this company is completely changing the game of scalp care by providing an entirely customized experience. By checking out this site, you can answer a Q&A and have a personal chemist design a shampoo that mathematically matches your hair's formula. You can update the chemist as to how your treatment is working and see if any changes are needed.
Some other great perks to Formulate's custom-made shampoo are: fixing split ends, hydrating the hair, preventing thinning, soothing the scalp, protecting the hair color and aiding in follicle growth. Wins across the charts!
DHS Zinc Shampoo
There's the magic Zinc again, working wonders in this shampoo that controls symptoms of dandruff and soothes the scalp and hair. Comforting and healing to irritated scalps, this shampoo is able to vitalities hair.
This shampoo can also be used as a body wash for those with seborrheic dermatitis on their face and chest. Not recommended for use, though, for those with colored hair!
Dove Dermacare Scalp
Dove is back again but this time with a focus on the scalp! Prioritize the itchy scalp by lathering on this Dove scalp shampoo that reduces redness, lessens frizz and bolsters the pH balance in your hair.
Indulge in the aroma of shea butter and coconut while combatting the white flakes and a dehydrated scalp — smooth, simple and easy!
Jack Black Nourishing Hair & Scalp Conditioner 
With lightweight hydration and richly moisturizing formula, this conditioner is a perfect shower asset for a dry scalp that just can't catch a break. Using pro-Vitamin B5 for the hair shape, boost and shine, the Tea Tree Leaf Oil ingredient is able to bring down any irritation, itching or dryness, all while the Basil Leaf delivers antibacterial nutrition to the hair.
This conditioner relies on Pure Science® formulas— a guaranteed best — which means certified organic ingredients are without parabens, fragrance or colorants. Cruelty-free!
Vegan and Cruelty-free Shampoo for Dandruff / Vegan and Cruelty-free Shampoo for Dry Scalp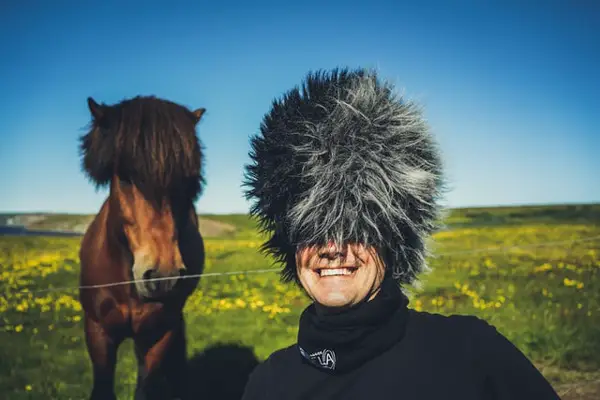 Speaking of cruelty-free, you might be the kind of guy that wants to make sure nothing you buy hurts animals — and we commend you for that! It's important to be an aware consumer and all kudos to you for caring.
So, although some of our prior suggestions may fit the cut, here are two specific vegan options for your dandruff or your dry scalp:
Bondi Boost Shampoo and Conditioner
This particular shampoo and conditioner rely solely on oils for its magic. Blending rosemary, peppermint, jojoba and sandalwood essential oils, this dandruff defeater is able to deliver anti-microbial properties, reduction of scalp inflammation through menthol and zinc — all while dissolving the dirt that clogs the scalp and hair.
You can be rest assured with such oils that the product is vegan, Peta certified, and 100% cruelty free. Made in Australia, this product is also free from silicones, parabens and other harmful ingredients.
Kamendis Shampoo
This brand took a plant route by creating this botanical treatment for scalps dealing with dryness, irritation and dandruff. Not tested on animals, clinically proven and 30 days money back guarantee, this product is as sustainable as it is empathetic to its customer and the environment.
Enriched with Sap Indus Mukorossi, a soapberry, natural detergent, this shampoo is a treatment that is both quick and effective!
How to Hide the Dandruff in Your Hair
We've all been there — there's barely any time to shower and you don't want to spend time carefully picking out each flake. Shampoos at this point in time are great but not a quick enough solution.
So, while the The Highest Fashion wants to show you the best men's shampoo for itchy scalps, we also want to provide some ways to hide the dandruff in your hair (if you are in need of a quick fix)!
Sport a cap, beanie, or fedora
Buzz-cut your hair so no flakes get caught in the strands
Wear a hoodie with the hood up
Sport light colors so the flakes don't stand out
Get a hold of a scalp brush and go to town!
Blow-dry your hair – those flakes should fly away swiftly
Dye your hair a lighter color (white doesn't stand out too much against other light colors!)
Don't forget to tag us on Instagram @thehighestfashioncom with any cool or funky hats you use to hide any hair dilemmas all men face on the daily!