Who says you can't dress up by dressing down? Yes, the world of pea coats, waistcoats and suits is a world, The Highest Fashion is more than well-acquainted with.
But there exists an underbelly — a hub rife with art, intrigue, diversity and wonder. This hub is colorful, vibrant — interesting.
And men, we know you're ready and some of you have been wearing or sporting the look without even knowing it. Graphic tees, big logos, playing with shapes, graffiti and art as well as having a story behind the design — it's all streetwear, and it's all relevant to the bigger scheme of street fashion.
So, without further ado, let's dig into the top and best upcoming streetwear brands that have scored recognition and respect from men around the world this past year.
Best New and Emerging Streetwear Brands in 2023 That You Should Know About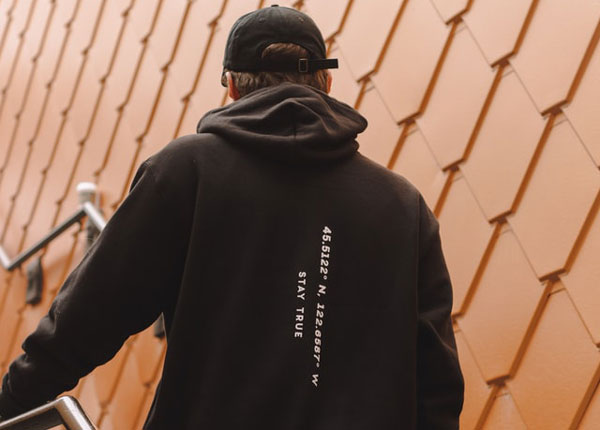 Every man wants to look good without having to try too hard — and looking effortlessly put-together is exactly what streetwear is all about.
Streetwear, ultimately, is harnessing cosmopolitan, urban grassroots energy and reflecting it through style.
Below are the new streetwear brands of the moment that have taken street subcultures and produced collections that belong in every man's closet.
Mosaert Clothing
While Supreme has music in the frame of mind while making its clothes, Moasert's history is purely music. The founder of the company, Stromae, had first risen to fame by releasing his album, Racine Carrée, with his song Alors on Danse remixed by Kanye in 2010. All through his music videos, Stromae featured strong color patterns that dug to his African roots, which inspired his release of streetwear brand, Mosaert — a pseudonym of Stromae.
Check out one such lively music video featuring the brand's initial designs when it first started oh so many years ago:
2020's capsule collection has solidified the brand's emergence as unique not only for its chic simplicity but also for placing ethics and sustainability at its forefront. The materials of the 2020 collection are 100% recycled and are built around the spectrum of natural tones including khaki, earth and blue.
This polo, for example, melts in your eyes as you take in its earthly aesthetic matched with one bright line of bright aqua. Its understatement is what allows the attention to detail to truly pop.
Or take these 100% recycled polyester joggers. Futuristic yet somehow familiar, these pants command the room with their glossy texture and down-to-earth, organic energy.
REBEL8 Clothing
Almost 17 years ago, $500 were invested into a small San Francisco brand that took energy, grit, grunge and anti-authority beliefs and manifested them into clothing that is both long-lasting and ethically produced. The shop is home to a blend of graffiti and art as both meet durability in style.
Streetwear wouldn't be where it is today if it weren't for graffiti. This cool jacket has the works — skull, roses and snakes— all on jean material. Can you get anymore grunge?
Or take this bad attitude looking tee that speaks to the brand name for itself. It's dynamic, bold yet low-key — perfect for any guy looking for masculine subtlety.
Bathing APE (BAPE)
2020 has been quite the year — but Bape has taken its time and came in with a men's collection that is just pure swagger. Using an almost cookie-cutter design but amping it up with a bad boy energy, the collection is a cohesive tribute to men who have a taste for edge, an all-American look gone wild and even a little bit of a Western twinge.
Take these high-end sneakers that will make any man a stud. The camo turned blue, contrasting with the white and the mix with Velcro and laces — the shoes are pure artistry. Or take the pullover hoodie that looks like the most masculine rainbow you'll ever see. The faces, letters and pop colors resemble Andy Warhol's style — the artist who made the Campbell's soup can statement a work of modern art.
WINDFALL 횡재 Clothing
Just take a look at this brand's messaging and collection names: Allure of the Goblin, Feeding the Flames, Perspective, A Firm Foundation. It's art, it's poetry, it's real. There is depth and substance to this brand's collections and it's all transparent as the brand writes the stories behind the designs right there for you men to look through. Who said there can't be purpose to the street?
This brand's photoshoots are also something to see. Take this "Feeding the Flames" jacket. It's primal, raw and engaging and leaves the person with an impression of confidence and powerful masculine energy. The bamboo in the shoot only builds and speaks to this earthy rawness and the description with the photo explains how the designer harnessed this anger into fashion, into expression — into beauty and progress.
Or take this Dread French Terry Bomber. Once again, the photo uses symbolism and nature to imply a story for the wearer, and we all know the streets have stories. The designer shares his life as the only Asian in his school but how his heritage and the openness he received empowered him. The model wearing this meaningful black jacket and beautiful design while looking back at the camera holds a profound sense of self-awareness, knowing roots make us who we are.
Thrasher Magazine Clothing
Thrasher isn't just a clothing brand — it's a one-stop-shop for all men who are style renegades — who is rough around the edges, a skater with resilience. Beyond the ensembles the brand offers, there are events, contests, magazines, and a treasure trove of videos galore that help inspire any man to meet his rock star self-halfway.
And these videos and community platform allow to build Thrasher's brand. Whether it's featuring the different skateboards that are out there, the diverse techniques skateboarders use for their passion or providing support for different social justice initiatives, this brand has loyalty to its customers that it treats like a skater family.
This iconic T-Shirt is unforgettable and speaks so much with its color that it honestly needs little else. The logo is as "bad-ass" as the word "thrasher" itself as well — sometimes, really, less is more! The Highest Fashion would also be remiss to not share this salmon-colored snapback that flirts with the "real men wear pink" phenomenon. It's kind color but brand message brings in the irony all rebels seek.
aintnobodycool
Orders of a $100 get a mystery free item — if that's not cool, then what is? Navigating to the site already sets the terms: a model giving you the finger while wearing a black ski mask. Perhaps, that's even more "street." In this sense, this brand puts its heart in soul in taking out the heart and soul in clothes and simply leaving that up to the wearer. The brand's t-shirts feature different pop culture images re-purposed and the result is something unique, something dark.
Take this "Cignals" black tee — the different squares all feature different artistic emblems of cigarettes. Whether or not it's showing the importance of smoking awareness, or it's simply embracing the fact smoking is part of the "aintnobodycool" campaign, the shirt makes a statement.
This "VEG" black tee is also a beauty. Its angry face within a circle with earthy plants and Celtic pattern speak to combining different rhythms of style that complement each other rather perfectly.
Fear of God Clothing
For any man looking for streetwear that is also regal in its outlook, look no further than the Fear of God. Every item is made with attention, care and quality. Grey, white and black are this brand's color palette, letting the brand's theme undertone be dark, enigmatic and, in a special way, soothing.
Check this amazing interview of his founder Jerry Lorenzo.
This grey Henley wool knit sweater, for example, is an essential for any wardrobe. Even on the screen, its warm, wool quality looks soft to touch. A comfort and an ode to sophisticated streetwear, this sweater is top-notch — and pairs perfectly with this silk anorak jacket. The different textures of the jacket and its form-fitted sleeve cuffs give it a glossy look, but also a rocker style. If you ever plan to go incognito or simply like to execute an aura of mystery, the turtle neck and slick form of this jacket are absolutely all you need.
This brand also has quite the look-book for its winter coats. If you're shopping around for a warm coat, look no further than this double-breasted wonder. It's neutral tone, longevity in both durability and length make it irresistible and an investment.
This brand could be also added to our best 9 lowkey streetwear brands list.
Hélas Caps
Have you seen this brand's summer 2020 collection? Its fall 2023 collection? The look-book is available for your viewing pleasure then — enjoy the streetwear collection as if it's a comic strip rife with meaning, interpretation and symbolism.
The representation within the brand matched with the retro colors, nostalgic design and powerful sentimentality allows each ensemble to be purely evocative — and European-resembling.
You'll see what we mean if you check out this striped polo — one that is unique, original and a tribute to the era of flower power, music and blue jeans. It's fresh, avant-garde and truly inventive.
And this light blue denim jacket would match perfectly over the artistic top. The little umbrellas and the pastel colors can take any outfit to a mode of surrealism that is both real and mod, purposeful and relevant.
In case you have been reading through all the brands and keep looking for a two-piece jogger suit with a look of casual, effortless "swag," this speed green jacket with the perfect gloss, and zipped side pockets right along with these matching joggers are exactly what you need.
Yeezy Clothing
This brand is street that it's literally off the streets. With only one kind of sneaker available on countdown currently, Yeezy certainly isn't easy to access on its own site. Lucky for the men who want to get to know this brand, however, we have found an archive of the clothes available.
What sets Yeezy apart is its knitwear sneakers. If you've ever seen men walk the streets with pure white knitted sneakers or tan suede lace-up boots, then this archive will give you it all. The winter fabrics that get incorporated into Yeezy's looks make it seem like a mountain man brand that appreciates innovation and flirting with masculine strength and delicacy.
HYPLAND Clothing
It's hard to make winter apparel look as aesthetically pleasing as a leather or denim jacket per say, but somehow HYPLAND finds a way. There is so much everyone has been through that decisions matter. The things we put our hearts and energy into matter.
Buying an item from this brand is intentional and purposeful because each item is crafted with a sense of heart and purpose. Whether it be tie die, patchwork, flannel combinations or Anime work of art, each item stands out and will be an asset to any man's look.
Our personal favorites include this anime puffer jacket that speaks to a subculture so robust it's as vigorous as its puffed up exterior, this phantom troupe puffer jacket with drawings so simple they feel real, or the Naruto Akatsuki jacket with aesthetically profound red clouds that feel like they're from some kind of dream.
This brand ultimately stands out by keeping it real, surreal and making statements through the cultural trends that fuel the different sects of society that deserve to have a voice, always. 
Why You Should Cop Upcoming Streetwear Brands
All these brands have something special to offer and each and every one has a story that is meaningful, impactful and community-facing. Streetwear, unlike high fashion, allows for a grassroot, all-inclusive feel that is essential towards empathy, change and progress.
Men deserve to express themselves through fashion that speaks to their soul — not just to their status. While designer brands and luxury styles allow a man to get in touch with his formal side, streetwear is about staying true to who a man is and what he feels inside.
Moreover, streewear brands often are local businesses or small companies based on a dream. By purchasing from the brand, you support art, vision and renegade missions that speak to the larger picture of fashion: personal histories and cultures expressed through design.
"It's the local streetwear brands who invent the trend and wholesalers who quickly jump on the trend after," Le Club Boujee summarizes. "In order to stay ahead of the forever evolving fashion industry, it's important you find the most low-key brands before your friends do."
At the end of the day, fashion is about feeling comfortable in who you are and expressing your identity in a way that is reflective of the way you see yourself, and the man you want to become.
Streetwear isn't just a clothing — it's a lifestyle. It's an art-form.
So, get to the street and show what you got to offer!
Don't forget to tag us on Instagram @thehighestfashioncom with your streetwear photos and let us know what brands stand out to you!