When the world gets quiet and the breeze picks up, or if you're on a bus or train and need to escape like a turtle in its shell, hoodies become the safe refuge.
A pick-me up basketball game, silent rain fall, a quick jog to the store in the brisk morning — hoodies are the goodies that keep us men going.
And whoever said they are merely for athletic purpose…straight up lied. You can be a fashionable man with class and taste and still know how to make a hoodie look like it's the next best thing.
It's all about knowing your style, your look and the types of hoodies that exist out there. Don't be afraid to get that hoodie freak on!
Men's Peacoat With Hoodie — Yay or Nay?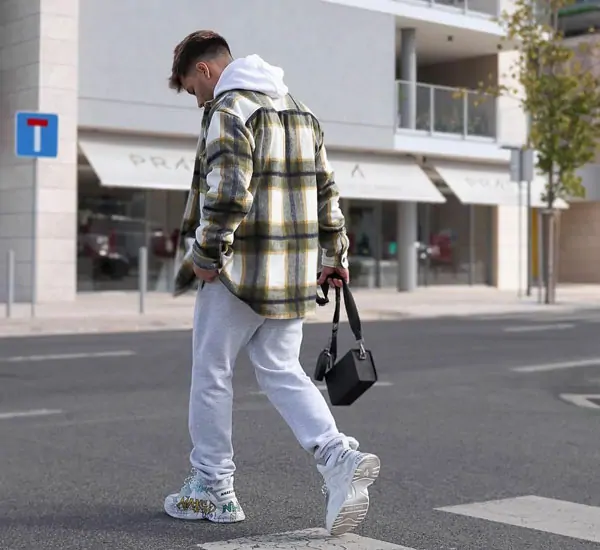 Definitely — completely — yay. Pea coats are the latest trend of male winter attire and all because of their refined quality, warm wool material and form-fitting outlook that brings out the best assets of any man.
If you have never heard what a pea coat is or have no clue what's all the pea coat craze about, go ahead and give The Highest Fashion's latest exposé on the matter a read-through! We'll wait.
Back already? Great! Let's keep going.
Pea coats have a certain classic style about them due to their European origin, but some men prefer a more relaxed look approach.
If that's you, you'll be happy to know that pea coats with hoodies embrace that very aura— check out the different looks below:
Grey Wool Pea Coat Hoodie
Original pea coats often don't have hoodies and leave the man to choose whether he wants to wear a hat or scarf or ear muffs to keep warm, but pea coats with hoodies solve that problem for you straight away.
More than that, grey wool in a pea coat hoodie takes a modern approach to the classic pea coat while retaining the timeless grey color, the elegance of the purely wintery color. The polished look stays but with the casual and practical hoodie attached!
Black Patch Pocket Pea Coat Hoodie
If a grey hooded pea coat isn't floating your boat — perhaps the grey or simplicity of the coat isn't your cup of tea — then a patch pocket pea coat with a hoodie just might be the life savor you're looking for!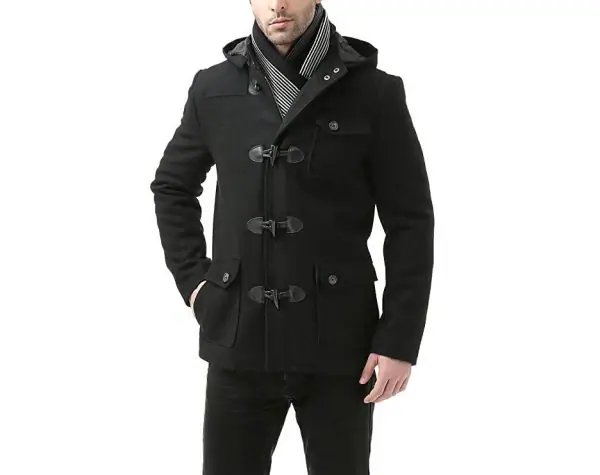 The patch pockets, flaps and snap closures add a certain bravado and organized chaos that catches the eye and woos the stylish soul. Once you go black you never go back and once you go patch, well, bring the next batch!
Black Hoodie, Grey Pea Coat Wool
That's right — there's a secret option C available and up for grabs! Both black and grey, both a hybrid of a pea coat and a hoodie, this ensemble brings the best of both worlds together. It's like a marriage of classic and modern.
This look is perfect for any hoodie-lover at heart who needs to look a tad more sophisticated or professional for either a dinner, conference, business event or the like! Celebrate your hoodie heart with the wool pea coat look of art!
Faux Fur Linked Pea Coat With Hoodie
If you want a look that really pops, pea coats with faux fur (let's try not to hurt any animals in our quest for good fashion) bring to life the wild side to any man.
This coat's contrast with the black and white and the rich substance of the fur bring a certain "je ne sais quoi" to the coat's presence. The contrast also draws attention to the form of the body, something that does wonders if you're looking to turn some heads, maybe even make some gazes linger!
Double Breasted Pea Coat With Hoodie
If you're loyal to your colors and find excitement in layering neutral tones, investing in a double-breasted pea coat with the same matching color is your best bet. The extra layer not only adds a protective element of warmth for the winter weather but also bolsters your chest and masculine oomph.
Pea coats with double breasted layers also mean less need to wear chunky sweaters underneath for warmth — wear whatever shirt you want: freedom of style is everything!
Pea Coat With Hoodie Military Edition
Now for our final offer, we bring some "amo" with the camo. Not all pea coats are the same peas in a pod — some have this luxurious faux fur and modern style pattern that bring some color to the winter weather.
This hooded pea coat, for example, may not be a classic neutral tone but its timeless pattern, grandiose presence and heat-retaining fur make for any closet essential. Just watch everyone ask where you got it!
If you're looking for some more inspirational pea coat styles, check out this informative and passion for fashion type video below:
Don't forget us here at The Highest Fashion when you make it big in the pea coat style world!
The Other Hooded Wonders of the Fall and Winter Season
As much as we love pea coats and can sing their praises all day, we do know that we cannot leave this hoodie-love session without providing other wonderful options all men should consider when it comes to autumn and winter tidings.
If you think pea coats with hoodies are the bomb dot com, check out these hooded creatures!
Tan Travel Parka
Neutral tones with a glossy look like this tan travel parka are perfect for any outfit, any day, any time. Warm, lightweight and incredibly spiffy, parkas have an almost light-hearted presence and ability to morph into the surroundings around you.
Timeless and always in season, parkas like these, you can be rest assured, are bank for your buck.
Brown Cashmere Hoods
But let's say you do have some cash to spend! Maybe you're the kind of guy that likes to go big or go home when it comes to style and comfort chic is your forté. Boy is this cashmere beauty for you.
Cashmere will make you look expensive and hey, there's absolutely nothing wrong with that! Show off your hard work and your built bod with a form-fitting warm cashmere coat that aligns perfectly with both fall and winter weather. The depth and vastness of cashmere brown are a force that cannot be denied.
Hooded Jean Jacket With Sweatshirt Sleeves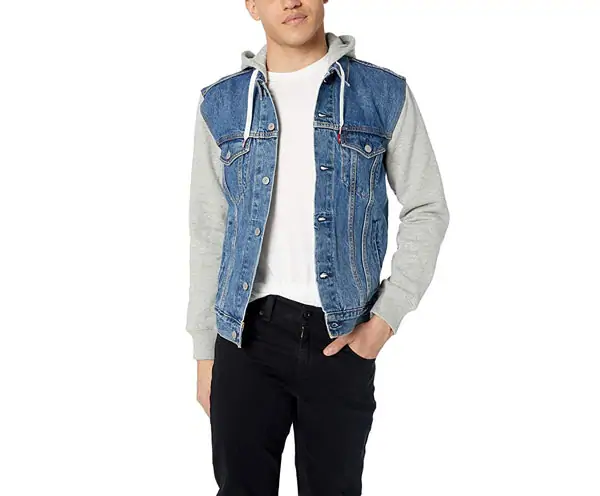 You have definitely seen these around. And you probably, in doing so, wish you had this hooded jean bad boy of your own. The fresh look of combining a sweatshirt look with jean brings a casual attention to detail and a look of easy-going but confident taste.
Hooded jean jackets with sweatshirt sleeves are easy to layer on with any pair of joggers, jeans, sneakers or hiking boots and are truly a complimentary look for any man. Own it!
Ecrins Down-filled Hooded Jacket
The best part about winter sometimes is the fun poof that comes with the coats available. An Ecrins down-filled jacket has all the poof and shine a sleek and chic kind of guy like yourself would like!
The subtle yet ever-present, prolific gloss gives an air of machismo that is beyond understatement — but dashing distinction.
Black and Grey Hooded Fleece
Now a fleece is a special kind of casual comfort— there is no going cold or growing out of a well-suited fleece with special mesh inside that keeps you warm on those blistery days with no sun in sight.
A hooded fleece is perfect for both city boys or country boys who want to look like they seamlessly just threw this on, but they know — they know — they look good.
Athleisure Pullover
Sometimes, it's nice to just chill at home — with the girlfriend, with the boys, with the family— but still feel like you good your style in check. After all, men, doesn't it feel good knowing you can show off your build no matter the time of day?
That's where athleisure and hooded pullovers like this one come through. With a tighter fit up top, looser let-go on the bottom, fitted sleeves to show off the muscle, the hood is able to solidify the overall look with a casual, savvy effect. Who knew you could look this good so effortlessly?
Hooded Cutoff Sweatshirt
Sometimes, a man's proudest possessions are his arms. Working out and building strength deserves the attention and recognition of those you know and passerby, but of course you don't want to be too obnoxious— hence, the hooded cutoff sweatshirt!
With a cutoff, you get the luxury of a sweatshirt but the chance to give your arms a breather, and your muscles the spotlight they have earned from all your hard work. It's a win-win! Point one fashion, point two muscle gain!
But Why Care How You Dress in the Winter?
You might be asking why you should care how you dress when it's cold out — after all, who is looking? Who notices?
Who cares?
But fashion doesn't take any breaks and psychology and research show that dressing well brings a sense of purpose and happiness to your life, something that is very much needed in the winter months when dopey dreariness takes a toll.
That's right — "look good, feel good" and "dress to impress" are actually scientifically proven.
According to studies, a man who dresses well is perceived as "more confident, successful, flexible and a higher earner" than a man who doesn't put effort into his look.
Moreover, Medical News Today explains that creativity fosters artistic self-expression, which can "contribute to maintenance or reconstruction of a positive identity."
The clothes you wear are an outward expression of your inner identity. Getting into the world of fashion really means learning to understand how to cultivate your outward creativity— the identity you want to reflect of yourself.
Shopping and understanding the kind of outfits you feel reflect that is exciting and something to look forward to.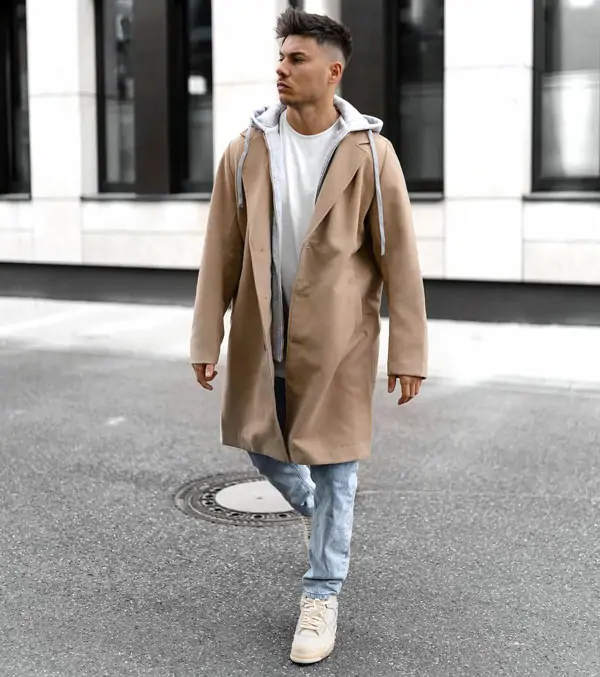 Looking forward to the little things — like investing in a pullover that feels like home, or a pea coat that makes your body feel at its best — is what allows you to have something to celebrate.
All this leads to happiness endorphins getting released, with research showing the dopamine chemical coming through when shopping due to the anticipation buyers have when purchasing.
"Many people think that dopamine is released when the brain receives a reward, but dopamine is actually released in anticipation of a reward," Psychology Today explains.
And in the winter, this is especially in important.
Often, many of us get down in the dumps in the winter and science can explain this too.
Plants aren't the only ones who need sunlight— humans need the bright ball of fire in their lives as well for healthy chemical balance.
Cold, sunless months can cause:
Lower levels of  serotonin— a neurotransmitter that regulates mood
Disruptions in circadian rhythms (your body's internal clock), which help control sleep-wake cycles
Alterations in melatonin, a hormone associated with both mood and sleep
By looking forward to what you will be sporting in the cold weather can help upkeep these mood levels and give a little pep in your step as you walk through the winds of December, January and so on.
Of course, it's important to understand that there needs to be a healthy balance of course — no man wants to become obsessed with shopping— but buying a nice coat or jacket for yourself that reflects your creativity and identity can go a long way and having that little shot of dopamine is something we all deserve.
So, with the cold weather approaching, be sure to get ready — get that hood up and smile with style— and make sure it's all good with your hood!
Don't forget to tag us on Instagram @thehighestfashioncom with your pea coat hoodie photos and let us know what other ways you sport your love for hoods!