Trends come and go but legends stay forever. Such is the charm of a leather jacket –a timeless piece of clothing present in our lives since time unknown. It is an essential apparel in the capsule wardrobe of every gentleman with a suave soul.
Men's leather jackets are still recognized as rough and tough, particularly in its masculine build. However, throughout its lifetime, the leather jacket has been associated with rebellious culture. It was mainly because it was worn by teenage rebels, bikers, and rock stars.
Rising as a hot favorite on the fashion ramp, the leather jacket's connotation has changed from rebellious to stylish and elegant. In recent years, it has further been acknowledged as a fashion 'must-have'. Here we will talk about 6 trendy rough and tough leather jackets that will offer elegance and charm.
Classic leather jacket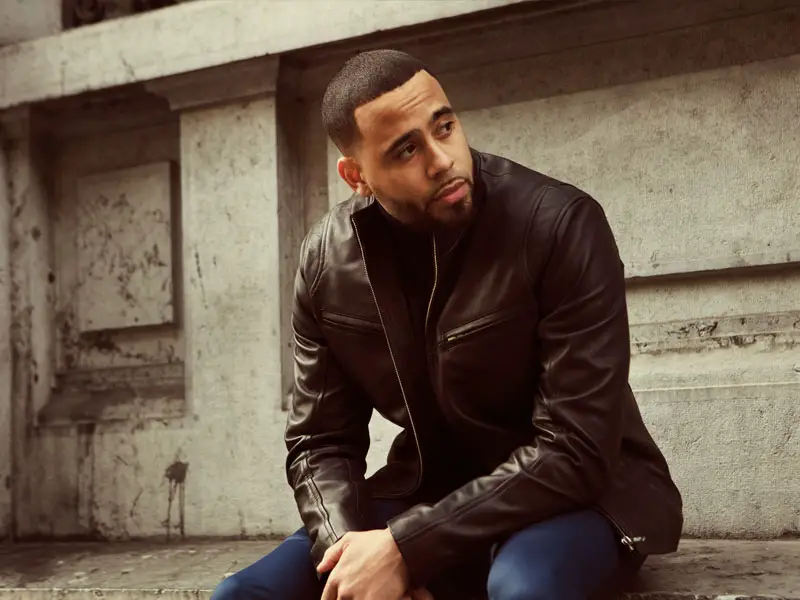 We have confidently placed the classic brown leather jacket on top of the list due to its refined style. This classic piece displays style, uniqueness, class, and attitude that any other garment does not. The moment you put it on, you get a sense of toughness, competence, and edginess.  
For this leather jacket, less is more. It has a simple steamy slim-fit design with multiple pockets. It enhances the broad shoulders of every rugged man. For men who like to wear simple attire and are not too dressy.
Biker leather jacket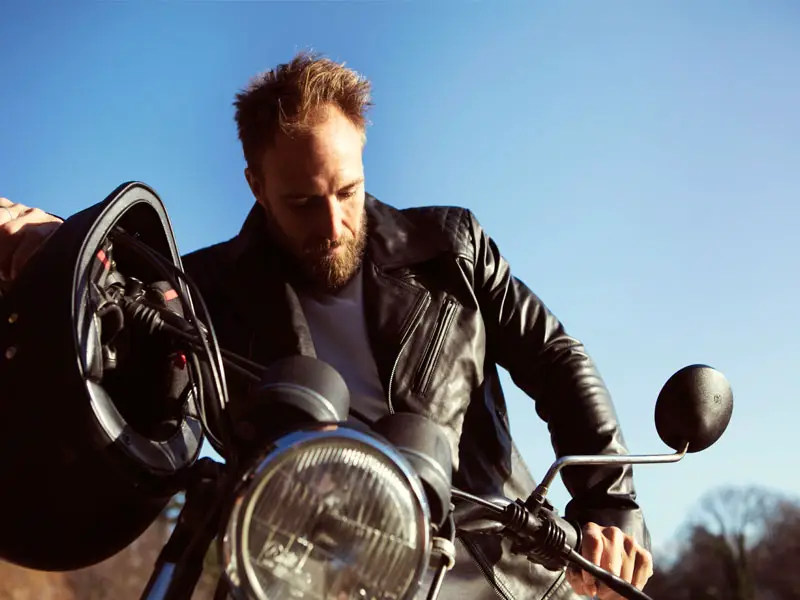 You will feel the haughty vibes sink in when you are buying a leather biker jacket, far before you even put it on. The biker jacket has a tough-guy appeal to it. It was designed for those rough road rides.
The biker jacket is undoubtedly the bad-boy of the outerwear world. It is crafted from cowhide, goatskin, or horse skin which contributes to its tough and rugged nature.    
The biker jacket should be well-fitted so that it draws attention to the best parts of your body. It comes in a cropped style with asymmetrical zippers and studs. The asymmetric cut was designed for riders to easily lean over the bike without the fastenings hurting the body.
Bomber leather jacket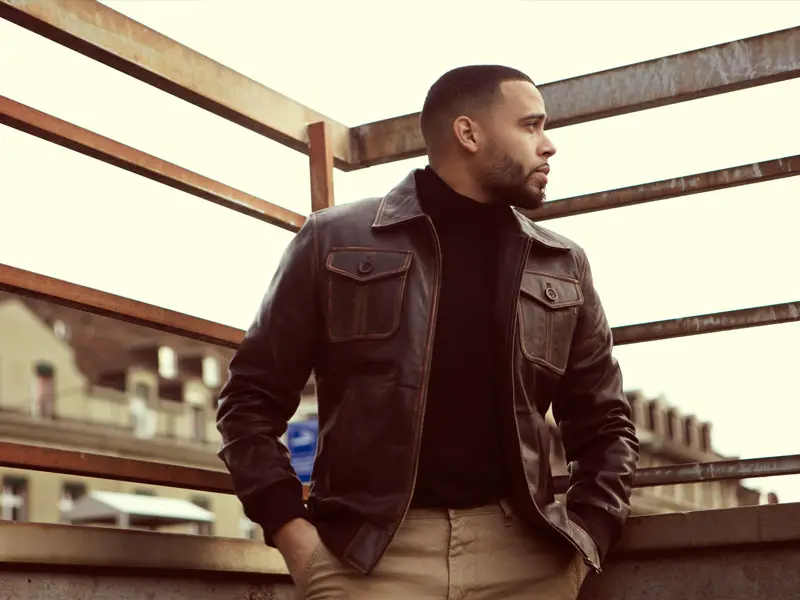 One of the most versatile leather jackets a rugged man can own, the leather bomber jacket has been favored as a bona fide wardrobe essential. It has a simple shape featuring a cropped body, central zip, and fitted waist and cuffs.
The bomber leather jacket was made to keep the flight pilots warm in extra freezing temperatures at high altitudes. It has a lined interior prepared with a warm fabric for the same purpose. Thus, it is all the way up on the tough meter. We already talked about everything you need to know about bomber jackets in a post, check it out here.
The midsection of the jacket is loose; however, the sleeves and waist are tight and fitted usually with elastic. It looks best when worn with a crisp shirt underneath, perfect for casual occasions.
Racer leather jacket
The racer jacket is a modernized version of a biker jacket. It has a robust build and is well suited to be taken out on the road. Made out of horsehide with a strong main zipper, the racer jacket is quite tough to give its wearer proper protection. The fit of this jacket flatters the body and accentuates your broad shoulders.      
Originally, the racer jacket was crafted for soldiers in World War II. These soldiers showed off their jackets in the cafés and pubs –racing in motorbikes.
In the modern world, a racer jacket is seen a lot on the fashion ramp. Just by wearing it, you will feel you have mounted a racer bike. If you are a sporty guy, then this jacket is best for you.
Shearling leather jacket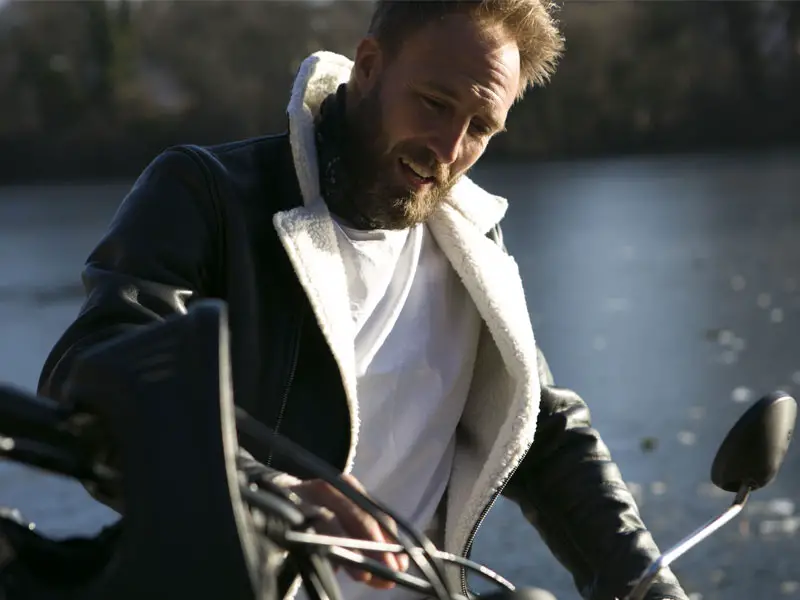 The shearling leather jacket is the warmest and most comfy outerwear. It is a must-have item for any man who wishes to carry the badass look. Owing to its air force origin, this jacket always has an aura of rough and tough attitude.
It is made out of sheepskin or goatskin that has been dressed with the wool still remaining. The outer surface is suede and the inner lining is made of fur. The shearling jackets are comparable to the best leather jackets for men available in town.
For zero-degree days, this jacket can be your best companion in keeping you warm and making you look elegant. Wherever you go, people will see you for the tough guy you are.    
Leather Vest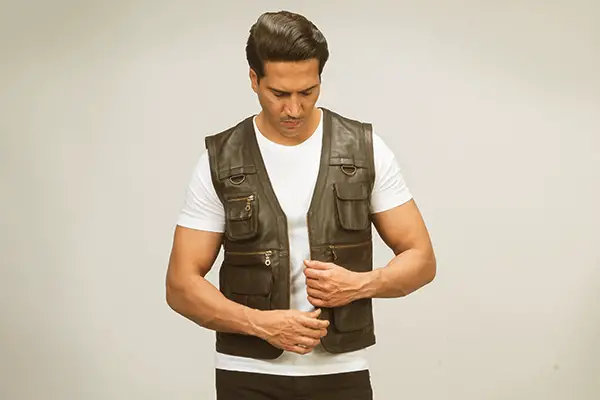 An intimidating exception to all the full-sleeved leather jackets is the leather vest. This sleeveless jacket is stylish and gives a hint of a rebel.
The leather vest has an attractive design with buttons on the front and zippered side pockets. When worn with a full-sleeved shirt, it looks fierce and chic. If you love to play with bold colors, then you should get a leather vest in deep blue, black, or forest green color. All these colors will elevate your whole outfit and make you look elegant.
However, this jacket is a bit tricky to pull off. If you love to work out your muscles and want to proudly show it off as well, then you should opt for the leather vest. It will highlight your well-built body, giving you a tough look.   
Conclusion
If you wish to infuse fierceness and attitude in your outfits, then a leather jacket is the ultimate answer. There is some spark about leather jackets that screams bad-ass and sophistication. Whenever you wear a leather jacket, you wear confidence!
You just learned about 6 leather jackets that are rough and tough in appearance and quality. If you own any one of these, you are capable of pulling off an elegant outfit.
At The Highest Fashion we share the latest men's fashion trends and top tips and tricks, so feel free to dig into the rest of our posts!