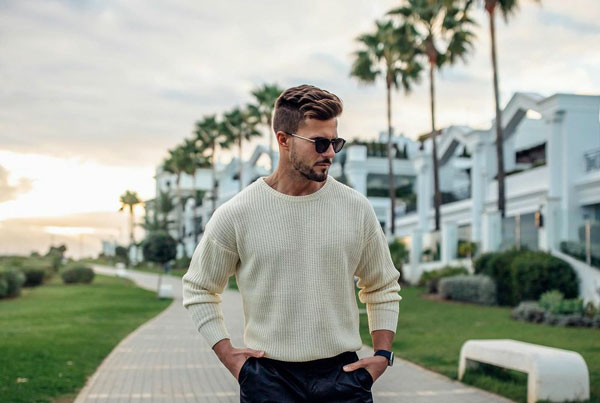 A jumper, more commonly known as a sweater in the United States, is a long-sleeved garment that covers the torso. This piece of clothing is a staple in England, where it is layered with everything from formal shirts to vest tops. You might be wondering how such a classic piece, that has evolved with fashion trends, became such an essential piece in our closets. We've put together the ultimate guide all about the jumper or sweater, with everything from its history to the current men's fashion trends. 
Jumpers or sweaters first made an appearance as a fashion garment in the 1890s, when they were used by athletes to keep warm between practice sessions and sporting events. What began as an athleisure piece has evolved into an article of clothing that can be found in every person's wardrobe. The most traditional jumpers are crafted using wool or cashmere, but high street jumpers are usually produced with cotton and polyester.
Originally, jumpers were produced in dark colours and designed as a heavy pullover, reflecting its European origin as a garment made for sailors to protect against the cold at sea in the 15th century. The jumpers or sweaters that we know today began to appear in more contemporary fashion through the collections of legendary French fashion houses Lavin and Chanel during the 1920s, who created jumpers that were designed for more casual wear. 
Jumpers vs. Sweaters
What is a jumper in England isn't always what is a jumper elsewhere in the world. Depending on what side of the pond you live on, you might be confused by what qualifies as a sweater or a jumper. In England, a 'jumper' typically means a garment that you put on over your head that is worn during colder months to insulate against the head. If you live in the United States, you might use the word 'jumper' to refer to the woman's knitted dress or pinafore. What is considered to be a 'jumper' in England is usually a 'sweater' in the United States, although cardigans do not qualify as jumpers. We've got you covered with the top styles to explain what the jumper meaning in the UK is.
Jumper Meaning in England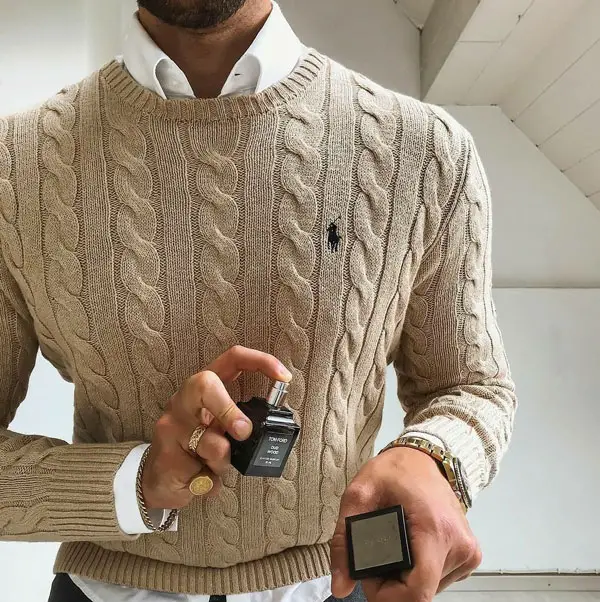 Given that they are such a popular fashion item, it's no surprise that jumpers come in every shape and size. What is considered to be a jumper in the UK can range from a simple v-neck sweater through to a turtleneck jumper or a hoodie. We've put together a quick guide of the most popular types of jumpers to help you find the one that best matches your daily style. 
Sweatshirts
These are the most casual of jumpers and are usually designed as a piece of loungewear or athleisure to be worn after exercising as they are produced using a thicker material. In the UK, sweatshirt jumpers usually feature a reference to a sporting team or a pop culture reference. Sweatshirts are most commonly found at high street stores such as H&M and All Saints. This style of jumper is usually one of the most accessible pieces of luxury fashion for most brands, including Gucci and Moncler, who incorporate their hallmark features into their sweatshirts. 
V-Neck Jumpers
Most often worn as a workwear and classic piece, v-neck jumpers are a timeless essential. These v-neck jumpers are traditionally styled with a contrasting shirt underneath, and we recommend picking up this style in monochrome and earth tone colours to maximise their use. This is the perfect choice if you want a smart look without having to add a tie, but the jumper is designed in a way that you can still wear one underneath if the occasion calls for it. This style flatters any body shape and is essential to have for formal occasions. 
Crew Neck
The most common type of men's jumper or sweater is the crew neck. With its round neckline, this is the most masculine and minimalistic design of jumper and can be worn by itself and works well under winter coats. If you're a fan of the preppy New England style, then this jumper is right up your street. 
Turtleneck Jumpers
Nothing screams winter more than a turtleneck jumper. With its tall collar, the turtleneck jumper is perfect for wearing to battle against the elements and is more often styled with jeans and a classic wool or cashmere scarf. These jumpers are both practical and stylish and are less formal than v-neck jumpers. Add a sleek blazer for a night out and leave the jumper sitting loose around your waist. 
Hoodie
Jumpers in the UK typically include hoodies and zip-up jumpers which come in an array of styles and fits. What makes a hoodie different than other jumpers or sweaters is that while it can be worn by itself, it is a versatile piece that can also double as a jacket and be layered over a casual t-shirt or long-sleeved top. One of the most popular styles of hoodie jumpers is the half-zip, which adds an athleisure feel to any outfit. This jumper is still a pullover but features a sport half-zip top that can be worn open or closed depending on your desired look.
Check this article where we talk about hoodies and peacoats, the perfect combo.
How To Style Jumpers or Sweaters
Jumpers are one piece of clothing that can be worn with almost any outfit. It is a staple in both men's workwear and street-wear, allowing it to bridge the gap between every type of aesthetic and fashion genre. Whatever your style is, there's a way to integrate the jumper into your classic look. 
Can A Jumper Be Formal? – Workwear
The standard uniform sleek workwear look for men all over the world is a three-piece suit, finished off with a pair of freshly polished laced shoes. If you want to dress your suit down just a little, or to make it easier to wear in the colder months, we suggest adding a round or v-neck jumper in an earth tone colour to your outfit. This outfit works best when the jumpers can accompany the look and make it appear seamless, which is why we advise to avoid bright jumper colours and to keep your look monochrome and sophisticated. 
Off-the-clock
Embrace the off-the-clock look of celebrities like Daniel Craig and David Beckham by adding a jumper to your closet rotation. David Beckham completes his casual jeans and jumper look with beanie hats and flat caps, choosing a pair of Chelsea boots or sneakers in a classic colour. If you ant the Bond approved look, take a grey v-neck jumper and add a pair of dark wash denim jeans, setting it off with a statement buckled belt. For those who still want to elevate their look, even while off-the-clock, you can take another leaf out of Beckham's book and add a fitted mid-length black jacket with a structured collar. 
Street-wear
The key to adding a jumper to a street-wear look is layering. Don't be afraid to add both a blazer and an oversized winter coat on top of the jumper for a laid back look. If you want to embrace the street-style or hypebeast aesthetic, add statement jewellery and pair with your latest platform sneakers or combat boots. Jeans are the go-to companion for jumpers in the street-wear world, but if you want to add a sporty twist you can swap them out for a pair of distressed joggers. Staple street-wear brands such as Off-White, Supreme and Heron Preston all have a curated collection of men's jumpers that incorporate their signature logos, letting even the most fashion-conscious hypebeast embrace this traditional piece of clothing. 
Choosing The Best Sweater For You
Now that you've seen what are jumpers in England, as well as how to style them, you might be ready to take the plunge and add a few to your closet. There are several important factors to consider while you're shopping around for your perfect jumper. The top three things to consider – with any piece of clothing – is the fit, material and the price point. 

The Fit
When looking into buying a jumper, it is important to decide how you want to wear it. If you intend to style it as an everyday piece to wear to the office, then look for a true to size fitting. When measuring to get your exact size, the chest measurements are the most important ones to note as they'll impact the overall fit of the garment, you should take a similar size as what your dress shirt size would be. If you're focused on adding a more fashion-forward and street-style piece to your closet, then oversize is best. Form-fitting jumpers create a more tailored aesthetic while looser fits, going up a size or two where appropriate, can give your outfit a laid-back look. Certain jumpers are best purchased in your true size, especially turtlenecks, whereas the sweatshirt styles are designed to be worn oversize so keep that in mind when shopping around. 
Material
One of the most popular fabrics for jumpers is sheep's wool, which provides a luxury feel while keeping you warm against the elements. Wool stays true to the origin of the garment and is a must-have for colder climates or to wear during winter. By comparison, cashmere is also a luxury material but it is more lightweight than wool, making it a better choice if you live in a warmer climate or intend to layer your jumpers with other items of clothing. Cashmere is softer than wool but usually comes at a higher price tag. If you want a soft to the touch jumper but without the heavy price tag, look into cashmere blend jumpers that can be easier picked up from high-street stores like Gap and Banana Republic.
The jumpers you're most likely to find when out and about shopping are typically made of cotton. Look for a jumper with a higher percentage of cotton fibres for a high-quality piece that is easy to maintain and relatively inexpensive. Cotton is also a great choice if you have a capsule closet and want to focus on versatile pieces that can be worn year-round. 
Price Point
Due to their versatility and the fact that they are a timeless piece of clothing, jumpers are the perfect investment piece to add to your closet. The price changes drastically depending on the brand, with fast-fashion jumpers costing as little as £15 while an entry-level Gucci jumper will set you back anywhere from £480 to over £1,000 depending on the design.
Whatever your budget, there is something on offer for you. While the brand name might be important to you, the fit and material also need to be considered if you want to invest in a piece of clothing that will stay in your closet for years. An important thing to factor in when you're buying a jumper, or any piece of clothing, is the cost per wear. Will you wear it once? Will you wear it once a week? The more you wear the item, the lower the cost per wear is.
Our Top Jumper Picks For Men 

Now you know all about the origins of men's jumpers, how they're most commonly styled in England, and what to keep in mind while shopping around for one. To make your search even easier, we have drawn together our top picks of jumpers or sweaters for men. Our top picks have something for every budget, style and aesthetic.
You don't get more classic than the Polo Ralph Lauren jumper. This is a staple piece in the wardrobe of any man who appreciates the classic Preppy style or who focuses on a vintage-inspired, well-tailored aesthetic. The cable-knit jumper is available in an array of colours, with new options available every season. It is a staple in the Ralph Lauren catalogue, and if you don't want to pay full price for a new jumper, they are easy to find on the pre-loved market. 
If you want to update your classic sweatshirt for a street-style ready look, this Off-White sweatshirt is a great investment piece as an entry-level luxury jumper. Featuring the brand's iconic diagonal stripes and arrows on the back and up the arms, this jumper is ideal for an off-the-clock look and can be worn with jeans and sneakers. 
This half-zip jumper combines both the athleisure trend and some of the best material choices for jumpers. Available in two classic colours and crafted with the merino wool knit, this half zip jumper is crafted using a blend of silk, cotton and cashmere for a luxury feel. With a straight silhouette and a relaxed fit, this jumper is ideal for on-the-go and is the perfect choice to throw in your gym bag or backpack while commuting. 
This Paul Fredrick jumper is a sleek take on the traditional v-neck jumper and is a minimalistic choice that can be easily integrated into your workwear wardrobe. A silk, cotton and cashmere blend, this jumper can be layered over a shirt and tie, or worn under a blazer for a three-piece suit look. For maximum versatility, we recommend picking this style up in black or grey. 
For the hypebeast who wants to keep a boujee vibe to their casual wear, this sweater by Gucci is an excellent entry-level piece. The price tag is more budget-friendly than others in the Gucci catalogue and GG stitch work not only gives it a vintage feel but also embraces the logo-mania trend. The crewneck makes this garment highly versatile and it can be styled on its own or with a shirt and tie for a more formal look. Pair this jumper with slacks and a long trend coat for an 80s inspired fashion moment. 
As we approach winter, this turtleneck by Polo Ralph Lauren is a mid-level choice to keep you warm against the elements. This dark blue long sleeved jumper suits any body type and can be easily integrated into your wardrobe. We recommend picking up this jumper in your true size for a fitted look that can be styled with jeans and sneakers for a casual holiday season outfit. 
This jumper by Stone Island is a minimalistic choice, featuring the brand's compass logo patch on the left sleeve, and is the perfect piece for a casual outfit. Available in three colours, including a sea blue, the Stone Island sweatshirt is 100% cotton with jersey fleece and ribbed cuffs for a fitted look. This sweatshirt is an easy layering piece and could be worn by itself during warmer months with jeans or chinos. 
Do you know what is a bomber jacket or a windbreaker jacket? We have review these "MUST HAVE" items just for you.
Don't forget to tag us on Instagram @thehighestfashioncom with your outfit photos and let us know which jumper style you're embracing this winter season.