Many fashion trends have come and gone; many more will come and go. However, one fashion item that has stood the test of time is the necktie, or tie, as it is commonly called. It has stayed, howbeit, taking on different forms, since the 17th century. Guess what else has come to stay? The tie clip and this begs the question, where does a tie clip go?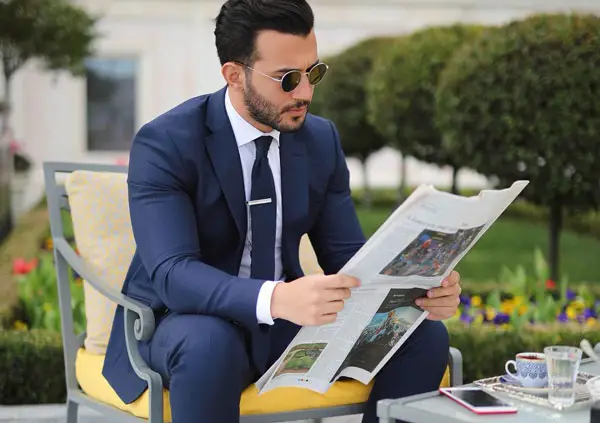 Whether you call it a tie clip, tie bar, or tie clasp, this small, seemingly inconsequential piece of metal that you will find sitting daintily on many men's ties, has found its way through fashion history to be where it is right now.
Tie clips replaced the tie pin used by both men and women when straight silk ties became fashionable. Since then, they have evolved into a must-have accessory for the 21st-century man of style.
The primary purpose of a tie clip is to hold the tie firmly in place, so that no matter the position its wearer takes, the tie does not swing or droop. It also gives it a sleek, uniform appearance relative to the shirt and/or suit.
From the famous actor walking down the red carpet of the Oscars to the faceless investment banker on Wall Street, every stylish man knows that for something so small, the tie clip carries so much significance and can inadvertently make or mar your outfit. Beyond keeping your tie in place, it is useful in making a fashion statement that otherwise would not be seen in its absence. However, this can be sacrificed if you cannot say correctly, "where do tie clip go?".
After reading this article you should check our ultimate guide about Cufflinks and French Cuffs. You will have a lot of outfit and style ideas exploring these articles.
Why You Should Use A Tie Clip?
At first glance, the answer to the question of whether you should use a tie clip should be 'Why shouldn't you?'. The one reason why anyone would wear a tie clip has always been to hold down their tie to their shirt placket. If that were all it did, it would be good enough, but thankfully, it isn't.
You may find it interesting to know that many people see men donning tie clips of various designs and sizes without knowing that there can be more to this classy accessory than simply holding ties in place.
Like many other fashion accessories today, although the tie clip was originally designed for a specific reason, it has many other benefits for its wearer. A tie clip and cufflinks are similar in this regard: small but with observable style impact. They can subtly give class to your look, provided you can rock them well. To help you with that, there are some things you need to understand before we talk about the right tie clip position. 
Types of Tie Clips
Tie clips have evolved into various designs, but all serve the same purpose – securing your tie. Getting your tie clip position right may also depend on which type you're wearing.
The two types of tie clips right now are the Pinch Clasp clip and the Side Clasp Clip.
The Pinch Clasp Tie Clip
The Pinch Clasp Clip is sometimes called the Hinged Tie Clip. It is very similar to your regular cloth peg and works the same way. You have two bars joined together by a hinge or spring.
To use it, you only have to pinch the separated ends of both bars to open up the other ends, which are usually serrated for a firmer grip. Then, you can position it such that one end goes beneath your shirt placket and the other on top of your tie.
When you release the pinched end, the clip firmly holds the shirt and tie together. These hinged tie clips are perfect for use with thick ties that may otherwise widen Side Clasp Tie Clips.
The Side Clasp Tie Clip
The Side Clasp Clip is easier to use. It does not come with a hinge, but it is just as effective. It looks like a long bar folded into two with both ends pressed together.
Using the Side Clasp Tie Clip is like using a paperclip. Simply slide it on, with your shirt and tie between both ends of the clip. The tie is held to your shirt by the pressure between both ends of the clip which are originally firmly held together.
How To Choose The Right Tie Clip
Before you consider where a tie clip goes, it is non-negotiable that you should pick the right one for your tie. A rule of thumb is that for a well-coordinated outfit, all your metal details should have the same color. It is the safest way out for a clean, polished look. If your watch, belt buckle, and cufflinks, for instance, are silver, your tie clip should be of the same color.
However, if you feel like it would accentuate your style, go ahead and rock a more colorful or funky tie clip. A tie clip like that may be all you need to jazz up what would be a bland outfit without it. Look out for a tie that would work well with it and you're good to go!
You'll find most men in the good old shirt, trousers, and tie combo, especially in the corporate world. Because of how common this outfit is, it comes as no surprise that many men end up looking like they're wearing a uniform. The right tie clip just might be the perfect distinguishing factor.
Whether your tie is a plain solid color or striped, there is a tie clip that will not sacrifice the exact style that you're trying to achieve, and you will not look out of place in the office.
Suits and tie clips also work together incredibly well. If you're found wearing a suit and tie without a fashionable tie clip peeking out, consider that outfit incomplete. In case you're wondering, yes, tie clips are that important. At some point, you're going to want to loosen that suit jacket. If there's nothing to hold your tie-down then, there may be a bit of trouble looming.
Tie Clip With Suit
Wearing a tie clip with a suit today is more fun because of the wide range of tie clip designs that are now available. Some men select tie clips that are the same colors as their suit or tie, and that works amazingly well.
First of all, don't you have a suit that fits you? Do you need to go to a tailor? Well, we know this might be really hard, so we've created the ultimate guide for you, all you need to know of tailors and costs.
You just have to be careful not to go overboard with other accessories. Suits accommodate all kinds of accessories, like collar pins, pocket squares, and so on. Whichever accessories you decide to use are supposed to work hand-in-hand to balance your outfit perfectly. To make your accessory decision easier, a simple rule is to pick functionality over aesthetics, at first. Once you have that sorted out, you should be able to work your way around others.
Suit separates are even more delicate when it comes to which tie clip is right for you. A typical suit separates outfit already comes with contrasting colors. The safest thing to do is to wear a tie clip with one of the already present colors. You can also use a silver or gold one; they're always the easy way out.
Fashion does not necessarily have rules, but there are guidelines to help everyone make the right choices. Color is very sensitive here and there is only a thin line between a mind-blowing outfit and a downright painful sight. A helpful tip would be to wear an understated tie clip with a loud tie or a bold clip with a more relaxed tie color.
Tie clips, like other fashion accessories, can also be occasion-sensitive. What we mean is that a tie clip with extra embellishments may work well for a music award show. For an event like a funeral, though, it would be far from appropriate. The moods for both occasions are different, hence the need for thoughtfulness in selecting the right tie clip.
Another thing to consider is the size of your tie clip and the size of your tie. Skinny ties are super trendy today for different occasions. If you choose to don one, your tie clip should be thin as well for them to work in perfect sync. One more thing to remember for skinny ties is that to enhance the sleekness they embody, a simple tie clip is best. Any other option may land you right in the hands of the fashion police who will charge you for a wardrobe crime.
If you're the type of man who prefers more traditional ties which are typically large or fat, a regular tie clip ought to suffice since your tie clip would most likely not be as big anyway.
This brings us to an extra important tie clip rule: your tie clip should never be bigger than your tie. As your tie size reduces, so should the width of your tie clip. To eliminate all risk, it is best to go for one that does not cover the entire width of your tie, see the image below 
How To Wear A Tie Clip?
Ask anyone this question and they would give you a pretty glaring answer – on your tie! What many do not know is that it's just not that simple. At The Highest Fashion, all we want is for you to step out every day looking dapper, with everything in its place. That's why we'll give you the best information to help you make the right choice about your tie clip position.
Right from the days of tie pins, all tie accessories have been designed to stay below the knot. At some point, tie pins stood directly below the tie knot but the functionality was compromised. The rest of the tie was not secure and would flap around easily when it got windy or as the wearer moved. Men wore waistcoats and cardigans to solve this problem and secure their ties. It worked for a while but of course, something better had to come in to save the day.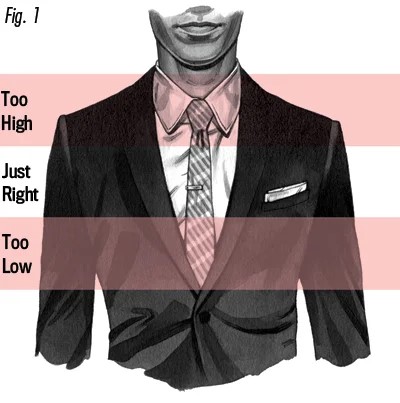 A tie clip that is positioned too high or too close to the tie knot will make your outfit tacky, almost like there is no breathing space for you. On the other hand, if it is too low, it becomes awkward and will disappear if you wear a jacket. Your tie clip position is also very important because if it will properly secure your tie to your body as you move, it has to be positioned just right.
It is something that is not worth compromising if you are going for a modern, classy look with every part of your outfit spot on. The last thing you want is your outfit losing its fashion essence.
It seems like general knowledge but some people need to know that in selecting a tie clip position, one must remember that tie clips go beyond looks. Where a tie clip goes is not only about its position on your tie. It should not merely hang on to the tie alone; your shirt placket is needed in the equation to give you results that work.
Where Do Tie Clips Go? — Tie Clip Placement
The ideal tie clip position is between the middle and bottom of your sternum, that is your breastbone. Therefore, a tie clip should go between the third and fourth buttons of your shirt. This is called the 'sweet spot'. Placing it higher up within this sweet spot gives a slimming effect, if it is lower, you have a more classic look. This tie clip position is perfect because it works well for a wide range of outfits. Even when your suit jacket is buttoned up, it is visible.
Beyond the position of a tie clip on your shirt, the tie clip orientation is vital as well. Ideally, your tie clip should go from right to left, holding your tie-down firmly to your shirt placket. It should sit exactly perpendicular to your tie for balance. A change in angle, no matter the direction, may make your outfit end up looking disorganized.
If you have placed your tie clip in the sweet spot where it should be, but you need to adjust it, there is also the right way to go about it. Tie clips are a major improvement from tie pins in that, tie pins caused damage to ties. All the penetration of the fabric caused damage over time and understandably, it became a problem for many.
The same can happen to your tie, even though you are using a tie clip today. To avoid that, make sure that before you adjust your tie clip, you have unclipped it. This will give you the freedom to do what you need without ruining the tie. If you're using a Pinch Clasp Clip or Hinged Tie Clip, you must unclip it before any adjustments. Remember, they come with serrated teeth that will hold your tie-down. Without unclipping before adjusting, these serrated teeth can damage both your tie and shirt materials.
Let your tie lie flat against your shirt for uniformity. As much as possible, avoid folds or bumps so as not to compromise the sleekness that your outfit is supposed to embody. If there is anything that should be puffing up, it should be the top half of the tie.
To achieve this, unclip your tie clip and gently pull up the top half. You will know that you have gotten it right when it is slightly puffed up to the front. It will help you look more at ease and provide some comfort around your neck too.
An extra tie clip tip you should not forget is that a tie clip is not always compulsory if you're wearing a tie. Remember, they have a primary purpose. If there isn't a need for it, you can do without it. An example is if you are wearing a waistcoat or cardigan on top of your shirt. These will secure your tie in place, eliminating the need for a tie clip.
Finally, as long as you have to wear a tie, a tie clip will most likely be necessary. One thing that you certainly do not want is your tie swimming in your bowl of soup as you bend over the table, for instance. Hence, help your tie stay secure and stand out from any crowd where ties are all over with a sophisticated clip.
Remember, as long as there is a tie, there is a perfect tie clip to go with it. Check our recomendation of Tie Clips and Cufflinks.
Final Notes
Having said these, we hope that you finally have the answers to questions like where does a tie clip go?, how far down it should go and which way it should go.
At The Highest Fashion, it is our sincere desire to help you express yourself better with fashion and take your fashion goals to a whole new level. Since 6 years ago, we have constantly catered to the fashion needs of over a million people by filling them in on the latest trends in men's fashion.
This is why we constantly churn out up-to-date fashion content and ideas for you in our men's fashion magazine and on our blog. To connect with us and join the community of fashion-loving men, you can follow us on Instagram @thehighestfashioncom.