Men, how often do people say you dress to impress? How often do people ask you, "Dang, how much did you spend on that again??"
Guess what.
What they're really asking is, "How are you so cool? And how can I be like you?"
Own the fact you're a style connoisseur— own the fact you care about how you look.
Be proud that you are reading this article right now, trying to get to know the world of fashion and the fact itself that being masculine is all about exhibiting the strength, agility and confidence in your look, your presence.
But, as they say, winter is coming.
Are you ready to embrace it in all its glory — do you know just how well you can dress as the degrees get lower?
The Highest Fashion is here to offer you a free course below!
What is a Pea Coat and Should You Actually Get one?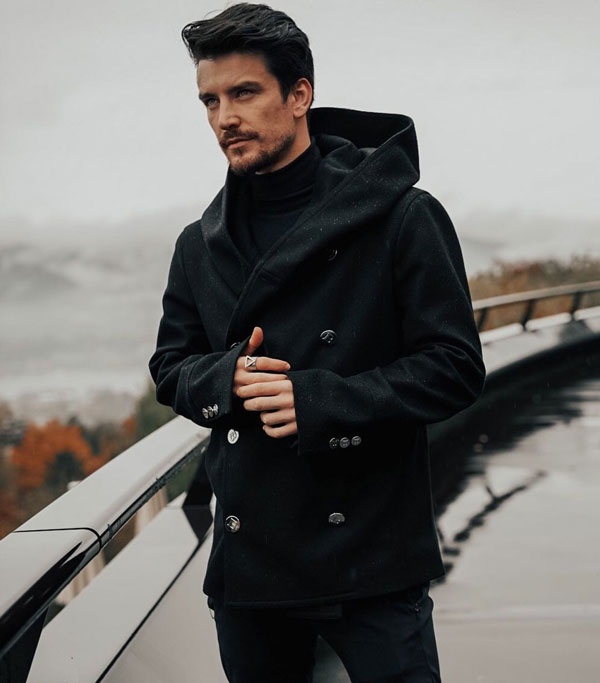 The winds are blowing, the snow is falling and everyone around you looks like they are wearing a black, puffy trash bag.
You?
You're wearing a tan wool pea coat with your leather boots, a stud all around, and that's because you realized right here and right now that pea coats are exactly what they sound like: petite…warm.
You don't have to let winter drown your style because you think you need to layer on thousands of different sweaters and wear an ill-fitting jacket to bear the cold.
The University of Rochester Medical Center actually debunks the myth that winter requires layers: "one warm garment that is well-made will do just as well to keep away the winter chills."
Take that in…. One. Warm. Garment.
More often than not, style takes a break in the winter, with everyone pulling out their old sweatpants, sweatshirts, winter boots with no artistic touch and they call it a day.
And these layers and sweatshirts are due to the fact that the puffy coats don't actually keep anyone warm — their material made of plastic, polyester or nylon. These materials are not only horrible for the environment but also have no actual way to retain heat.
This is because nylon and polyester — which most brands unfortunately sell — belong to the world of fast fashion.
So, how does this fit in with the world of pea coats or overcoats, bomber jackets, or parkas?
Well, those, when sought out properly, are made of wool, leather, hemp, mohair, cotton or cashmere, and more often than not, stuffed with goose feathers.
Pea coats are slowly getting their deserved acclaim and for good reason as they are specifically made of heavy wool and are always a timeless color whether it be tan or navy blue.
The origin of pea coats stem to the sea: the Dutch Navy surfaced the coat in the 1800s, with the etymology coming from the Dutch word "pije", which translates to coarse wool material.
Pea coats kept the Dutch warm but it was the British who took the coat to their soldiers and popularized the look, with the US welcoming the long wool coat on their coasts shortly after.
The reason the coat has gotten so much attention and build in the world of fashion is its ability to keep the wearer warm while also accentuating his silhouette.
Buttons all the way up, the snug fit brings modernity, attractiveness and regal energy to any man who sports the wool, well, like a man!
But let us truly explain the high importance of why you should actually get one.
Let's Break Down Fast Fashion — Because When Broken Down… It's All Microplastics
Fast fashion is no joke. The fish in the ocean aren't laughing and neither is the ozone layer.
Business Insider reports that washing clothes made of nylon, spandex or polyester releases "500,000 tons of microfibers into the ocean each year — the equivalent of 50 billion plastic bottles."
And what's worse: "producing polyester releases two to three times more carbon emissions than cotton and polyester does not break down in the ocean."
Directly translated, those winter coats with the plastic lining and puffy polyester — they hurt the environment and don't even keep you warm while they're at it because polyester or nylon or other micro-plastic inhibitors are not insulated.
Pea coats and other coats and jackets made of natural material are, and they retain heat without hurting the world around them. Look good and feel good — knowing your purchase of one helps keep the world a little greener.
OK, so that's our quick Ted Talk on fast fashion.
Let's now take a look at the pea coats and other kinds of insulated but authentically made coats and jackets you can purchase this season!
Exploring the Seasonal Treasure Trove of Pea Coats, Overcoats and Jackets Galore
Winter might seem like a dreary season but it doesn't mean your wardrobe has to be. All men have a duty to look and be their best and feeling your best starts with showing the world your best side— and the items that bring it out.
So, take a browse through our little online trove of possible style "inspos."
Winter might seem like a dreary season but it doesn't mean your wardrobe has to be. All men have a duty to look and be their best and feeling your best starts with showing the world your best side— and the items that bring it out.
So, take a browse through our little online trove of possible style "inspos."
Classic Black Wool Pea Coat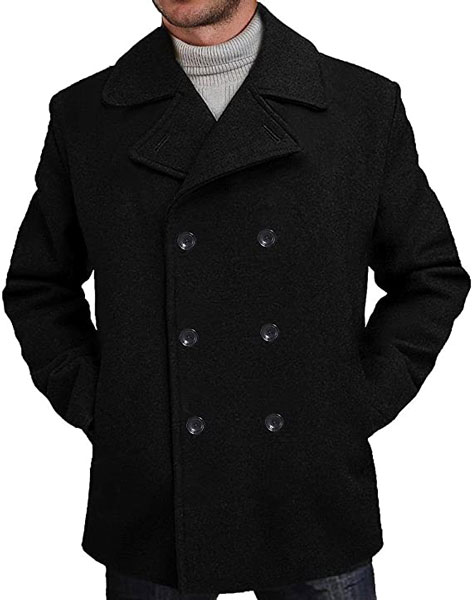 Although "pea coat" doesn't sound like the most "manly" kind of coat, its sophistication, boldness and reserve bring to the table both an air of enigma and enticement.
Black is a timeless color and given the pea coat's history, so is the style of the coat itself. The best part is a black pea coat pairs perfectly with any hat or scarf and still maintains that European essence it was born with — and who knows style better than the Europeans?
Tan, Twill Overcoat
Looking for a coat to keep you warm while commuting to the city? Want to look as professional as possible without sacrificing warmth? Twill overcoats like this one can help, given their regal stature, simple style and slick yet approachable energy.
The twill also gives the coat a natural look, perfect for both autumn and winter seasons. Photoshoots in the leaves and the changing trees, anyone?
Maroon Wool Blend Layered Collar Pea Coat
Over the years, pea coats have been able to evolve and adapt to the different trends and styles men have enjoyed including fresh collars and unique pockets and buttons. Maroon, a soothing and deep color, brings a certain warmth merely with its artistic aesthetic.
The layered collar on pea coats like this one build up your shoulders and neck, overall adding a look of strength, confidence and extra heat to your style during the cold, cold winter.
Military Green Parka
If you're looking for a coat that combats snow like a shield and offers head protection, you can never go wrong with a military green parka — after all, that kind of green is ready to fight the winds!
Parkas have an air of freedom, fun and flair and any man who wants to sport all three in his look should consider adding this winter wonder to his wardrobe stat.
Canadian Bomber Jackets
The name may sound intense but these bomber jackets actually tie together a look with a relaxing and calming presence that cannot be ignored. Also coming with a protective head piece, bombers bring an extra layer of heat while matching any pair of jeans, joggers or trousers you have.
If you plan to spend a majority of your day outside in the cold, these jackets just may be your Achilles' Heel. After all, no one knows how to brace the cold better than the Canadians!
Plaid or Patterned Pea Coats
Pea coats, as mentioned before, fit perfectly about your body but their elongation provides a perfect canvas. Wool is warm and neutral colors can look refined, but sometimes it's nice to pattern in that large space!
So, why not invest in a pea coat that shows off your individual taste, your uniqueness — your "you"? Get a pea coat with a cool pattern and it will spruce up any suit or outfit you have on, for any occasion. Just watch those compliments roll in!
Satin and Velvet Puffer Jacket
You read that right — satin and velvet. An unlikely duo, but both classic materials help make for not only a heated coat for the winter but a stylish must-have as well.
The mix of different black material takes an almost surrealistic approach to winter wear, to the point that the diverse fabrics create a look of depth and substance to an otherwise simple coat. A little extra puff can go a very long way!
Check this satin and velvet coat from Fendi.
The Perfect Pea Coat Winter Combinations
You've probably seen more variations of possible coats you can buy than you ever thought. We appreciate you making it this far in the article with us here at The Highest Fashion.
But we would do you a disservice if we just threw some coats your way without showing you some style inspiration with the one thing men often care about the most: shoes.
So, what stylish shoes should you add on to your winter look this year?
Leather Boots With a Twist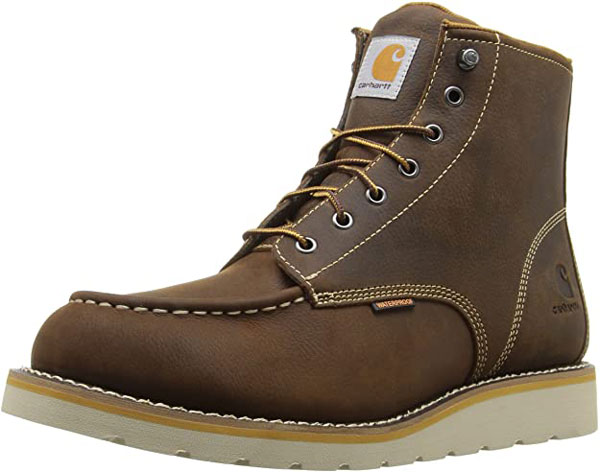 Pea coats and bomber jackets will always pair perfectly with a pair of leather boots that have an extra modern twist whether it be laces, a stripe on the heel or a unique coloring you don't find anywhere else.
Best part about leather boots is not only do they never go out of style but also they keep your feet from turning blue when that ice hits, the snow falls. Moreover, leather is waterproof so there will be no puddles in your socks no matter how long you're out in the cold for!
Tan Hiking Boots
Hiking boots don't always have to be for the great outdoors. These glossy soles are perfect for any ensemble that needs to be spruced up with some color and swagger. The sharp look of hiking boots along with their powerful step give the wearer traction when walking along with a heated interior.
Waterproof Wonders
Sometimes, it's best to invest in a waterproof boot, especially if you live in an area where sleet, snow or hail is a constant wintery mix. Grab some thick socks and roll on these waterproof wonders while still looking like you know what you're doing when it comes to style.
Waterproof boots don't always exhibit a personal fashion sense so it's best to find shoes like these that have a rustic color or unique pattern or even vintage-looking design so that even in the snowy weather, the world can see you put some thought into your style.
Suede Chelsea Boots
Chelsea boots know how to demand attention— adding the suede material to the mix? Now, you're a hotshot that renders Sandy from Grease to say, "Tell me about it, Stud!"
We dropped a quick clip for you here so she can tell you herself (but pretend the letterman sweater is your classic Chelsea boots)
Indeed, the classic royal aura of suede paired with the dignity-full and rather serene Chelsea boot is something that we like to call a lethal combination.
Black Puddle Boots
If you're winters look like rain more than snow, consider investing in puddle boots to match your coats and jackets. Puddle boots don't have to be rubber rain boots but can be futuristic-looking shoes that garner as much attention as summer loafers, per say.
Rubber boots just don't do any outfit justice— so, if you're in it for the fashion long haul, be sure to take the time and find the perfect pair of rain shoes that don't rain on your style parade! We recommend black rain shoes so that mud or grime don't stand out too much when wearing from day to day.
Don't forget to tag us on Instagram @thehighestfashioncom with your pea coats, bomber jackets or slick winter shoes. We want to see it all!