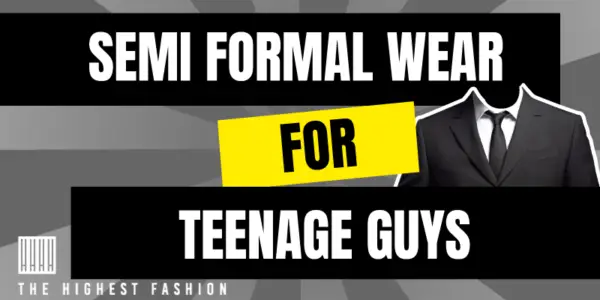 We've already given you +100 Cool Outfits for Teenage Guys in 2023, but what happens when you need to step it up a bit? When you have an event that requires teenage boys' semi formal wear but you don't want to look as though you are heading to a prom.
Well, worry not. Once again The Highest Fashion has got your back and will guide you through the tricky minefield of semi formal outfits for teenage guys.
Today, we will not only explain what semi formal means, but will also give some hints and ideas on how you can achieve a great look.
Get this outfit in Amazon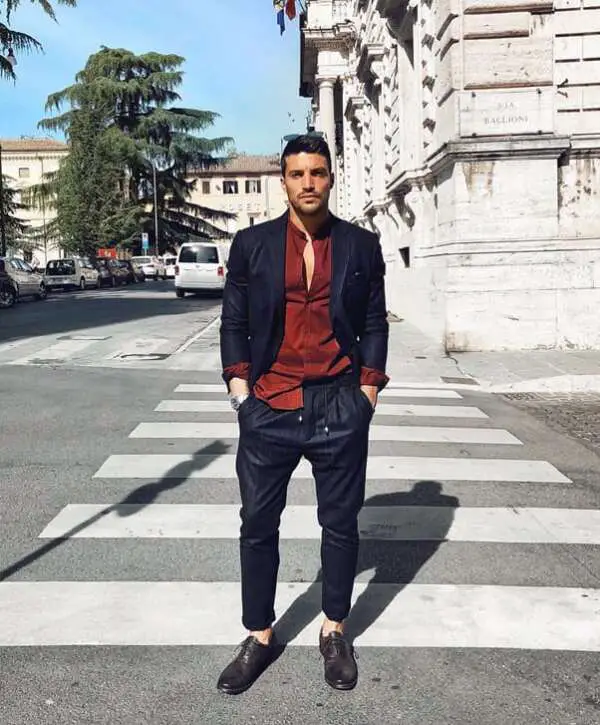 Model: @marianodivaio
What Is a Semi Formal Dress Code For Teenage Guys?
Let's get back to basics and start by defining a formal dress code.
Formal Wear
Formal wear has evolved somewhat since Fred Astaire was tap dancing across the stage singing "Top Hat, White Tie and Tails". Back in the 1930's, men's evening formal wear was typically a black, square shouldered double breasted dinner jacket cut short with long tails. Worn with black dress trousers, a v-cut vest, patent shoes, a white bow tie and pocket square with the ubiquitous top hat, this was one dashing ensemble.
Formal attire is a significantly higher dress code and, today, typically means a tuxedo with a bow tie. Traditionally accessorised with a black or white bow tie, tuxedos are popularly worn with matching coloured bow ties and cummerbunds. If you want to know everything about formal dress for boys, we got you covered.
Semi Formal Wear
So what is a semi formal dress code for male teenagers? As you already know, semi formal can be a pretty loose term. Essentially, it is an outfit that is not as dressy as a tux; but still very dressy. The good thing about semi formal is that it allows for more personal expression than a tuxedo but you maintain the sophistication and style.
People's interpretations and opinions of semi formal wear for teen guys do vary. Some see colourful blazers and sports coats teamed with slacks as semi formal. Others think a three piece suit is semi formal and anything less is smart casual. It is open to interpretation.
One thing to note, if wearing a suit, is that it is better when the suit is tailored for you. If tailoring is not an option, and it isn't for everyone, at least ensure your suit fits you well. Oversized suits are often seen as scruffy and you are unlikely to feel comfortable if your suit is too small.
Always remember is that everyone sees semi formal as a dress code where you put extra effort into your appearance. Tom Ford has been quoted as saying "Dressing well is a form of good manners". If you keep that in mind, you cannot fail to go wrong, whatever the occasion.
Which Events Can I Expect to be Semi Formal?
There are a number of events that require a semi formal dress code. The obvious are wedding receptions or baptisms, but it could also include an awards night with your local sports club, a gala event or private parties which request semi formal attire. You could even choose to wear semi formal clothing on a first date or in a really fancy restaurant.
If you are really not sure on the dress code for an event, it is better to dress up rather than dress down. Then, should you arrive and feel a little over dressed, you can effortlessly adjust your look by removing the tie and opening the top couple of buttons on your shirt. Or, if wearing a three piece suit, ditch the waistcoat.
Is a Sport Coat Semi Formal?
Before we answer whether a sport coat is semi formal attire for teenage guys, let's quickly break down the differences between a blazer, a suit coat and a sport coat.
Blazer
COOFANDY Sport Coats for Men Suit Jacket Linen…
SLIM FIT BLAZER – Upgrade your wardrobe with…
FUNCTIONAL POCKETS – This mens sport coat featuring…
Mens Blazer Suit Jackets Casual Unlined Knit Sport…
Features: Notched lapels, regular fit, no shoulder pad…
About Pockets: All pockets are real and available….
COOFANDY Mens Business Coat Regular Fit Blazer Suit…
CLASSIC ESSENTIAL – A timeless classic that no…
VERSATILE – This mens blazers can be a…
A blazer is usually one solid colour fabric, traditionally navy blue although now available in a variety of colours, adorned with silver, brass or gold coloured buttons. It is dressier than a sport coat.
There are variations of blazers, from two button single breasted to 6 button double breasted. A blazer is more tailored than a sports jacket.
Suit Coat
HXW.GJQ Men's Premium Wool Blend Double Breasted Long…
Shell: 51.8% wool, 41.4% polyester, 3.2% acrylic, 2.2%…
Slim fit classic wool coat with all the…
Springrain Men's Wool Blend Pea Coat Notched Collar…
MATERIAL: Classic mens pea coat made of wool…
FIT: Slim fit classic midi long pea coat…
SOMTHRON Men's Casual Trench Coat Slim Fit Notched…
SOFT MATERIAL Our long trench coat made of…
FEATURES & DESIGN Long sleeve, long lapel coat,…
A Suit Coat is simply the jacket from a two or three piece suit. The suit jacket and trousers are made from the exact same fabric. It is possible to wear a suit coat as a sports coat but it would only really work if it is from a bold monotone design. A pinstripe won't work, so bin that idea now.
If you wear your suit jacket as a sports coat you need to bear in mind that it will be susceptible to wear and tear. If it fades, it won't match the suit trousers as well and so won't look as smart.
Sports Coat (also known as a Sports Jacket)
COOFANDY Sport Coats for Men Suit Jacket Linen…
SLIM FIT BLAZER – Upgrade your wardrobe with…
FUNCTIONAL POCKETS – This mens sport coat featuring…
Casual Blazer Jackets for Men Two Button Lightweight…
Features: Notched lapels, regular fit, no shoulder pad…
About Pockets: All pockets are real and available….
COOFANDY Mens One Button Sport Coat Regular Fit…
CLASSIC ESSENTIAL – A timeless classic that no…
VERSATILE – This mens blazers can be a…
The Sport Coat is the least formal of the three jackets described. They come in a variety of colours and patterns. Very easy to coordinate with jeans, chinos or trousers, the sports coat was traditionally an outdoor jacket.
The sports coat is less fitted and so a good option for layering. No doubt you will be relieved to know that not all sports coats come with elbow patches. So don't worry, you're not going to look like a geography teacher if you wear one!
So, back to the question, is a Sport Coat Semi Formal? Sadly, a sport coat cannot be worn as semi formal attire for teenagers. It just hasn't got the cut and polish for the occasion. But consider wearing a smart blazer and get a sport coat anyway. After all, a sport coat is another great adaptable piece to include in your wardrobe.
Liking the idea of a colourful blazer teamed with slacks for semi formal wear? Then check out the look below:
Is a Polo Shirt Semi Formal Attire?
Sorry to break it to you, but although we have previously established that a polo shirt is a smart and versatile wardrobe piece, polo shirts are not suitable semi formal wear. Keep your polo shirt for smart casual or business casual events.
What Else is Not Formal Attire?
Now that you ask, khakis, scruffy jeans and combat trousers are not considered Semi Formal. Hopefully it goes without saying that caps, sports shirts and flip flops are also not considered to be semi formal attire for teenagers. Whilst all are great pieces to have in your wardrobe, they are not suitable for an event described as semi formal.
What Are The Best Colors To Wear For Semi Formal Events?
The rule of thumb is lighter suits (sometimes known as strollers) are most suitable for day time affairs. Lighter tones are more fitting for semi formal day time events with the age old combination of a white shirt teamed with a grey suit forever being stylish.
Check out this classic grey suit and white shirt.
Get this outfit in Amazon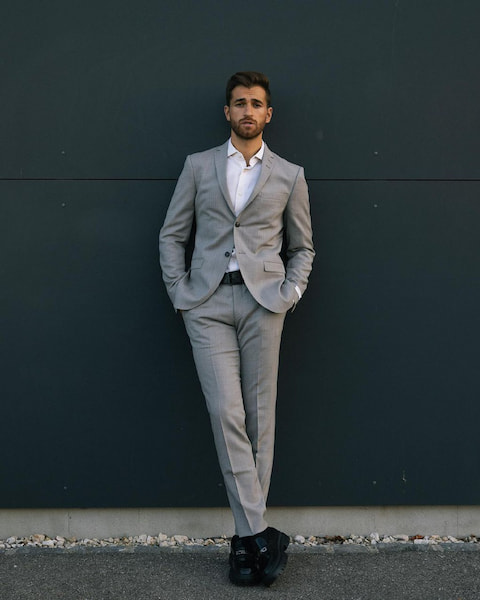 Model: @danieltonijais
Equally, for evening events, semi formal guidelines favour darker colours such as navy, to give more of a formal hint.
Do you prefer a darker suit for your event? If so, what do you think of this on point get up?
Does Semi Formal Require a Tie?
Well, the jury is out on this one. You will find some articles and blogs that state semi formal does require a tie to be worn. Whereas, others say it is not necessary and it is all about the way you style yourself that gives it a semi formal look. If in doubt, follow Oscar Wilde's advice that "You can never be overdressed or over educated". It is easy to remove a tie after gauging the event upon arrival.
Check out these sharp looks for semi formal attire for teenage guys; with or without a tie.
Get this outfit in Amazon
Model: @magno_scavo
What Accessories Are Suitable for Teenage Boy Semi Formal Wear?
Sunglasses
As we have mentioned before, sunglasses are an essential fashion accessory. They are a simple tool that can instantly enhance your look; adding that layer of Jay Z cool which we secretly aspire to.
Sunglasses may be a necessary, as well as stylish, accessory when at sunny daytime events. They finish off your semi formal outfit, adding your final, personal touch. But, unless you are Jay Z protecting your eyes from the camera flashes or have very sensitive eyes, perhaps avoid wearing your sunnies during evening events.
Pocket Squares
Pocket squares are a great way to personalise and add flair to your look. A well placed pocket square will highlight the colour scheme you've chosen to wear.
There are hundreds of ways to fold and present your pocket square, but as semi formal attire for teenage boys, it is better to keep it simple. You will look way more sophisticated and refined.
Wrist Watches
Apart from being a practical element to any outfit, a wrist watch is a fine accessory to complete semi formal dress for teenage guys.
Whether you are wearing your Timex Iron Man Classic or the ageless Nixon Sentry, your look is complete with a stylish yet pragmatic piece.

Belts
Back in the day, belts were practical items used to hold up trousers. Now, belts are decorative as well as operational. Fashion used to dictate that it was necessary to always wear a belt if wearing trousers that had loops but that has changed. So you don't have to wear a belt at semi formal events but it is not a problem to do so. You can even buy dress belts for more up market wear.
Braces or Suspenders
Customarily, braces (suspenders to North Americans) were worn with trousers that did not have belt loops to hold up the trousers. The recent revival of braces has seen them on display at formal, semi formal or informal occasions. So to accessorise, or utilise, braces at a semi formal event is perfectly acceptable.
There are two types of braces, those with clips and those with button holes. The clips are seen by some as being more informal, although they are more versatile. The braces with button holes are more discreet, but can only be worn with adapted trousers.
Oh! One key thing to do is NEVER wear braces and a belt. As James Fonda's character in Once Upon A Time in the West said "How can you trust a man that wears both a belt and suspenders? The man can't even trust his own pants!"
Do you like the semi formal braces look of the cheeky chap below? Follow these links to achieve a similar style.
Get this outfit in Amazon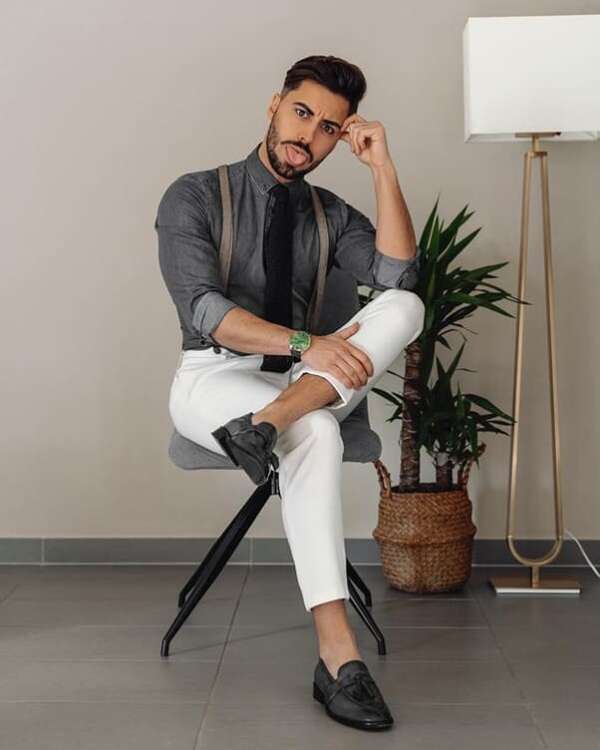 Model: @giuse_laguardia
To Sock or Not to Sock?
There has been a bit of a spring/summer menswear trend of late regarding the wearing a suit without socks, or the appearance of no socks. Traditionalists comment that it is a bit too casual for a dress code of semi formal for teens. Modernists argue that it is the evolution of fashion.
We will leave you to make up your own mind on whether to sock or not to sock. However, The Highest Fashion has two tops tips to share with you;
Should you choose to bare your ankles, wear secret socks. This will preserve the life of your shoes (and toes!) and help you avoid stinky feet.
If you do wear socks at a semi formal event, make sure that the socks pull up high enough so that your calf doesn't show when you are seated.
What Shoes Do You Wear to a Semi Formal Function?
It goes without saying that footwear is an essential part of any outfit. But getting it right for teen boys' semi formal attire can be fiddly.
Oxford or Derby Shoes
In the movie Kingsmen, Colin Firth's character, Harry, implies that Oxfords, not brogues, are the only acceptable dress shoe for formal and semi formal wear. And there is absolutely no doubt that an Oxford or Derby shoe will add an unmistakeable sharp and snappy look to your attire.
Brogues and Loafers
As is the way of fashion, brogues or even loafers are now acceptable semi formal wear, depending on the event and hosts. We suggest that brogues and loafers are more suited to for daytime wear, keeping the smooth lines of the Oxfords for evening events.
Fun fact: Brogues are not a style of shoe but Oxford or Derby shoes with a pattern of decorative perforations which were traditionally used in the country. It's thought that the perforations allow water to drain from the shoes if walking through wetland.
Chelsea Boots and Monk Straps
These comfortable classics are increasingly acceptable as semi formal footwear. After overthrowing their labour or mod images, these staples of footwear are available in hues and designs that befit most occasions.
Whether you prefer the savvy single or double buckle design of the monk strap or the sleek smoothness of the Chelsea boot, you will not be excluded from the next guest list if you rock up wearing a pair of these.

Sneakers
But, we are in the 2023's. So trust 2023's fashion to once again defy tradition with its take on semi formal footwear. Smart sneakers (perhaps not your muddy runners) are acceptable in some circles at daytime semi formal events.
It is best to gauge the audience and ensure that your complete ensemble works, ensuring that the contrast between your chosen outfit and the sneakers is not too great. Just remember that some venues will not allow entry to guests wearing sneakers.
Do you like this beachfront semi formal look with sneakers? Then follow these links to achieve your own version of this.

Grooming
Ok, we're not going to give you a lecture here. Just a gentle reminder that if you going to a semi formal event you need to ensure you are well groomed. After all, it is the overall presentation that you make, and not just the clothes that you wear, that will seal others' impression of you.
Clean hair and nails, polished shoes, a tidy beard and smelling fresh are all standard. If wearing a tie, have it at the right length and if wearing braces, wear them in a straight line from your shoulder to your waist.
What Are The Best Semi Formal Outfits For Teenage Guys?
So, we have mentioned two piece and three piece suits already. And you can see from below that you can make this look stylish and sophisticated with well-placed pocket squares, bold prints matched with dark slacks and colour coordinated 3 pieces.

Another great, but no less slick tie less look is seen below. Smart pin striped trousers and a crisp white shirt teamed with central buckle loafers.
Trendy Semi Formal Attire for Teenage Guys
So, we have had a look at what makes up semi formal attire but let's look at what is trendy to wear now.
Although historically associated with sportswear, drawstring trousers are being lauded by the likes of Hugo Boss, Stűssy and Brunello Cucinelli.
For semi formal wear, it is possible to get drawstring trousers tailored and in a range of materials. Comfortable and easy to wear, to be at the smarter end of the spectrum, you would need to consider wool or linen blends.
If you want to hide the securing tie you can wear a button down shirt. Or you can bear it and be proud.
Check out these trendy semi formal looks for teenage guys featuring draw string trousers;
Get these outfits in Amazon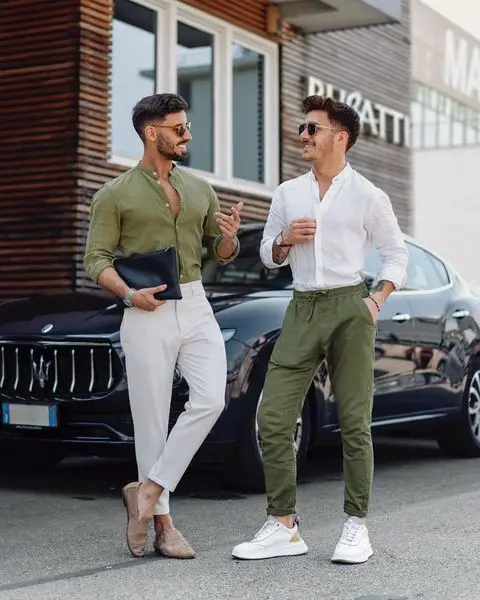 Model: @giuse_laguardia
If drawstring is not your scene but skinny pants are, try taking a leaf out the these guys' book; collarless shirts worn with skinny jeans, monk straps or loafers. Finished with stylish sunglasses and watches.
Get these outfits in Amazon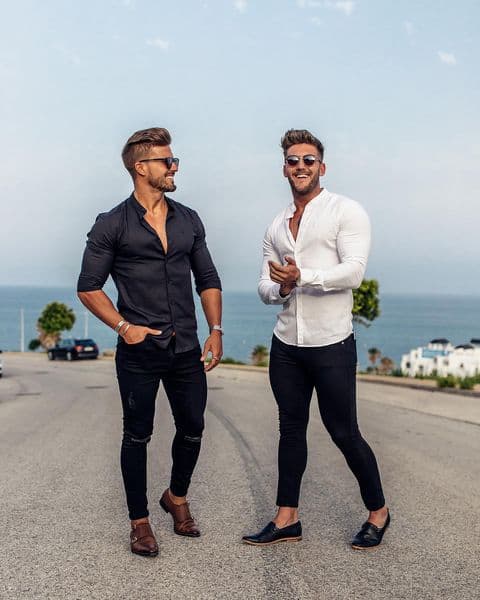 Model: @antoniopozo
Semi Formal Attire for Teenage Guys at Pinterest
In this men's fashion magazine we always love to go the extra mile.
That's why we've created this fabulous Pinterest gallery of semi-formal teen outfits. You've got tons of looks to be inspired by, take a look!
Final Note: Semi Formal Attire Trends for Teenage Guys for 2023
Hopefully we have helped you overcome the question of what to wear to that semi formal occasion that you have been invited to.
We know that trying to achieve the right look of semi formal for teenage men is a challenge but hopefully one that The Highest Fashion has helped you to overcome.
After six years, and with a global community of over one million men, we always aim to answer every fashion question to aid you in achieving your personal style.
You will always find non-stop fashion inspiration from our gallery of sophisticated and on point men who reign in the fashion stakes.
That said, we look forward to seeing you dazzle when wearing some of our outfit recommendations. Who knows? You could get a feature and inspire millions across the world to look good too.
Just follow us on Instagram @thehighestfashioncom and tag us in your pictures.