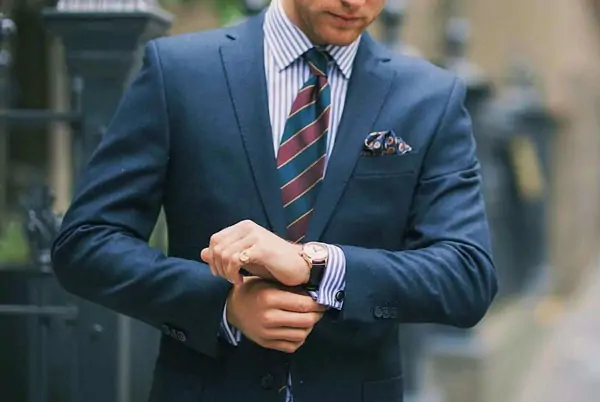 The President of the United States of America, the waiter at your favourite fancy restaurant, and your colleague at the office, they all have something in common right? Okay, it's very possible they'll several things in common, but here's one thing we can agree on: they all wear shirts! Who knows? They may not all know what a French Cuff is, but a shirt? Now, that's very relatable.
Shirts are part of everyday fashion for the average man, they are a part of the world fashion culture today. Just take a look into every man's wardrobe and one thing you are sure to find is at least, one shirt. French cuffs, though, are the crème de la crème of any array of shirts. They're the cake, the icing, and the cherry on top; the star of your wardrobe's shirt show. Basically, they are special and should not be missing in the wardrobe of every man whose goal is to always look dapper.
After the reading, you must follow this article where we show you how to wear a tie clip. You will be the master with these knowledges.
History of The French Cuff
If a person asks 'What is a French Cuff', the easiest answer to give is that it is a type of cuff originally worn by people from (or in) France. The truth could not be any further from this. French cuffs were not always known by this name.
As far back as the 16th century, upperclassmen wore shirts whose sleeves had ruffled ends and used ribbons to secure these ruffled ends. Through the years, as shirts evolved, flamboyant sleeves were replaced with cuffs that could be secured with links.
Turned-back cuffs slowly came into the fashion party and they were very welcome. A turned-back cuff protected shirts from fraying and if it did happen, the cuff could be easily repaired or changed without the shirt itself being affected.
French cuffs are an example of turned-back cuffs and in those days, they were unique in that they had six cufflink holes. The reason was a very interesting one. If you've ever worn a shirt, then you know that one part that gets dirty very quickly is the cuff. In those days, washing was not as easy as it is today, so shirts were usually worn more than once before they were washed. When the edge of the cuff got dirty, it could be turned down a buttonhole so that the stained part was hidden.
Where then did the 'French' in the name of this shirt come from? It wasn't referred to as this until the style reached America. We cannot say exactly when this was, but since cufflinks became popular in the 1930s, one can infer that it gained prominence around this time. Apparently, cuffs like this closely resembled the type seen in clothes worn by merchants and soldiers in the Napoleonic times, hence the name.
Another possible reason is that everyone agrees that attaching 'French' to an item immediately gives it some form of sophistication and elegance. To make the shirt special or fancy, it was called the French Cuff; the name has stuck since then. Today, the French cuff is regarded as the most formal cuff style and the most appropriate for suits and tuxedos. It's like waistcoats, do you know all about this cloth? No problem, we talk about it here.
What is a French Cuff on a Man's Shirt?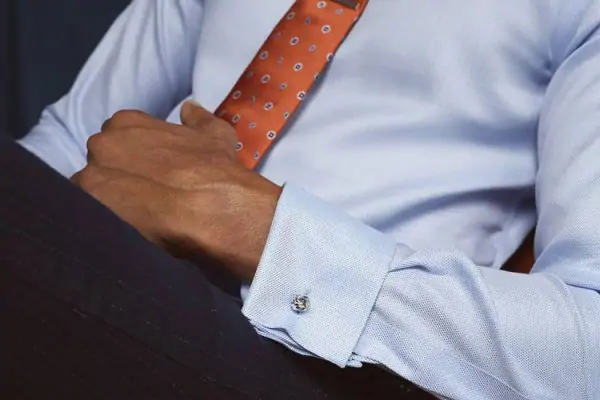 Before we get down to the business of answering what a French cuff is, let's talk about cuffs.
Types of French Cuff
There are three types of cuff styles :
Barrel French Cuffs
Barrel cuffs are also called button cuffs. As you may have already guessed, they have buttons on one side of the cuff and buttonholes on the other. The number of buttons ranges from one to three, but two buttons are most common for easy adjustment of the cuff.
Link French Cuffs
Link cuffs have buttonholes on both sides of the cuff. They can only be joined using links. There are two types of link cuffs – single cuffs and double cuffs. Single cuffs are made up of a single layer of fabric that can be joined with links. They are commonly worn for white-tie events but can be worn for black-tie events too. Double cuffs are twice as long as single cuffs and have to be folded back before being joined with links. The French cuff is a type of double cuff.
Convertible French Cuffs
Convertible cuffs are like a combination of both types of cuffs. You can wear a convertible cuff with a button or with links. It has a single layer like a barrel cuff, but there is an extra buttonhole for a cufflink to pass through.
Other French Cuff Types
'Foldback', 'Turnback', 'Double Cuff' were the names by which the French Cuff was known back in the day. It used to feature six buttonholes in total but today, a standard French cuff has only four holes. Thankfully, we now have washing machines so folding our cuffs to hide stains is not necessary. Hence, the reduction to four holes only. Some designers still use six holes, though, and there's nothing wrong with that.
Look through a gathering of men at a black-tie event or a business meeting and most, if not all, of them, will be donning French cuffs with a wide variety of stylish cufflinks. In Europe, the French cuff is considered formal wear for very special occasions where button cuffs won't suffice. It comes in different edges shapes such as rounded edges, mitered edges, and angled edges. However, straight edges are the most common.
The French cuff is preferred by many for its sleek and elegant feel. Unlike button cuffs, the sides do not overlap, rather they 'kiss' when fastened, meaning that they lie face to face to form a sort of teardrop around your wrist.
The Kenneth Cole Reaction Men's Slim-Fit Technicole Solid French Cuff is a prime example of a French cuff shirt that will leave you looking suave, no matter the occasion. It is designed in such a way that comfort isn't sacrificed for style, with an expandable comfort collar and flex armhole for optimum mobility. Its tapered body also makes it sit snuggly on your body, accentuating your debonair aura.
How To Wear A French Cuff
When French cuffs first became trendy years ago, they were put out as clothing for distinguished men, to be worn on formal occasions only. This mindset has remained through the years and that's why your mum, partner, and the boys insist that you wear one for the wedding next weekend or the black-tie event at work.
The problem of how to wear French cuffs covers areas like when you should wear French cuffs, where you should wear them to and how to style them exactly. If that is something you struggle with, here's good news. 
The Highest Fashion cares about helping you make a fashion statement wherever you find yourself without overdoing or under-doing it. Let us help you solve this French cuff problem.
Traditionally, French cuffs are for serious events. We're talking strictly formal scenarios. There are people who believe that rocking a French cuff with a blazer is an anomaly that should not be tolerated no matter what.
All we have to say to that is that fashion is dynamic. The old rules, though super helpful, don't always cut it anymore. Of course, we won't recommend that you wear a French cuff for a night at the bar. What we're saying is that you can pull off a dazzling look with a French cuff shirt in more relaxed environments. For instance, for some years now, Tom Ford has effortlessly slayed in French cuffs without ties, and at some casual events. And you know what they say, if Tom Ford can, you can too. No one probably says that, but you get the drift.
Now, if you're no Tom Ford and would like to go the easier route, we're here for you too. French cuffs are the perfect way to jazz up an outfit for your next occasion. It doesn't even have to be for a formal event. 
You can wear it under a blazer or sweater and still be right on track. Sure, more conservative men will raise an eyebrow, but they'll be fine.
Now, about how to wear French cuffs. There are a number of things that you should keep in mind. First off, make sure that whatever you wear on your shirt lets you show some cuff at its end. 
Whether it's a suit's jacket, a blazer, or sweater, the sleeve length rule which says that a quarter to an inch of sleeve should extend beyond the jacket sleeve is key. It will help to balance your look and express the intentionality of your French cuff choice.
Next, wearing a tie on your French cuff shirt, especially to a formal event, is non-negotiable. You can choose to wear a necktie or a bow tie. Either way, do not forget the tie!
Finally, French cuffs must be paired with cuff links. There are no alternatives, no exceptions, no excuses. The very design of the shirt necessitates the use of cuff links to hold the shirt in place. Do anything but use cufflinks and your outfit will end up looking messy, tacky and anything but stylish. You can get away with wearing a French cuff shirt with simple slacks, a blazer or a sweater. However, the moment you consider not wearing cuff links, you would also be considering being the star of a fashion disaster waiting to happen.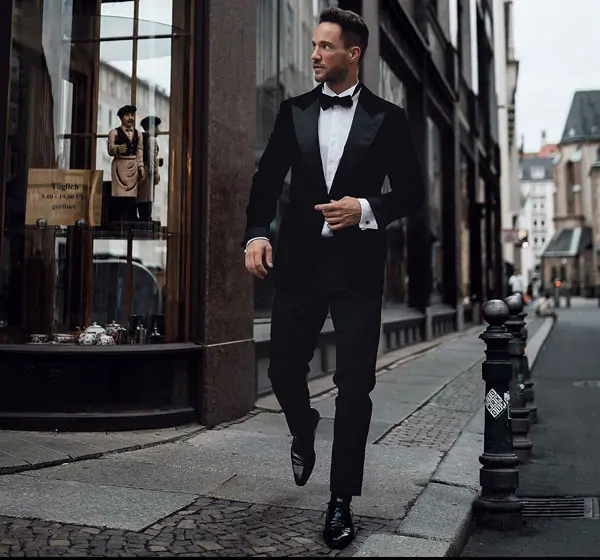 Cuff links are always a plus to your French cuff outfit. They have been to men as far back as 1930 when they became popular. Back then, the cufflink served both as a status symbol and as a fashion accessory. Your cufflink may not say much about your social status today, but it says a lot about your fashion sense.
They come in different shapes, sizes, and styles, and the reason is for men to express themselves through them. Buttons can be very boring and dreary, and there's not much anyone can do about them, but bring in cufflinks, and the story changes. They can be simple yet breezy; small but with an irresistible spirit. 
Since there are many styles of cufflinks to choose from, make sure you select one that matches your style and suits the occasion that you plan to attend. If you're not sure, go for one that blends with the metal details on other accessories like your belt, watch buckle, and so on.  As long as you learn to strike a balance between your style and the nature of the occasion where you find yourself, you can't go wrong with cufflinks.
The Dannyshi Men's Classic Stainless Steel Initial Cufflinks features 26-Alphabet Initial Letter cufflinks that let you express style, however simple, with any initial of your choice on it. At first glance, they seem like the regular metal cufflinks but integrating personal style through a chosen initial is what makes you immediately stand out.
Another pair of cufflinks like that is The BodyJ4You 4-piece package. It is a quick way to take your entire outfit from ground level to the sky. It comes with a tie bar and money clip that carry any initials that you prefer. Is there a better way to infuse what would ordinarily be regarded as vanity into everyday life? Now, you can rock a French cuff with cufflinks to hold your sleeves in place and a customized tie clip to finish up a sophisticated look. What's more? It will fit in just about anywhere.
The versatility of cuff links extends from their shapes and design to the kind of material from which they are made. Gold and silver cuff links are perfect for formal and semi-formal occasions. For instance, this UHIBROS Men's Cuff Links, made from stainless steel features a polished finish that makes it the right luxury cufflinks that would go well with your French cuff shirt. Made from stainless steel and with fine detail, it is easy on the eyes and sits flawlessly on your shirt's cuff.
There are also silk knot cufflink styles for very laidback occasions and casual outfits. That is one of 1001 reasons why we love cufflinks here at The Highest Fashion.
If you're wondering how to wear cufflinks on your French cuff shirt, all you have to do is fold the cuff back, such that the buttonholes on both sides align, insert the cufflink through the two holes from the side of the cuff facing up to the other two holes. When you place your arms at your side, the top of the cuff links should face forward so they are more visible than the other end.
Why You Should Wear A French Cuff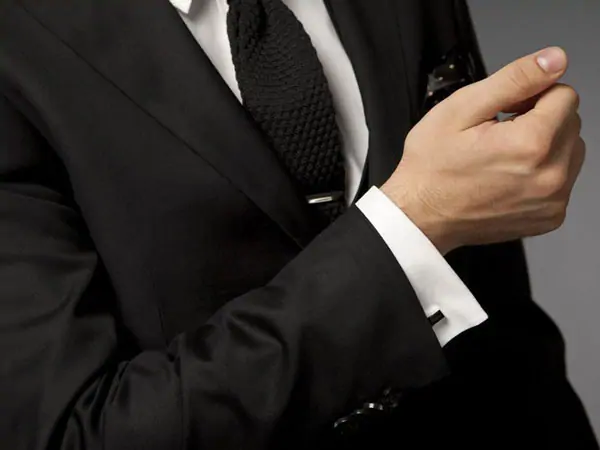 This entire article has been about showing you why you should wear French cuff. In case you missed it, here are more reasons.
When worn correctly, a French cuff shirt shows you off as a classy, driven, and confident man. It is way fancier than the more regular barrel cuff shirt so if luxury and elegance are what you're going for, choose a French cuff shirt.
Since they also come in a wide variety of styles, they are more fun to work with. For instance, collar styles like the straight point, wide-spread, and slight spread can be seen with French cuffs, giving you many beautiful options to choose from.
An example is the J.VER Men's French Cuff Dress Shirt. It features a spread collar that allows different tie knot sizes but can be worn without neckwear. It comes in many different colours and patterns for you to choose from. Its sleek, streamlined design will flatter your body shape and as you don it with the perfect cufflinks, you're well on your way to being a style god.
Another perk of wearing a French cuff shirt is that it lets you wear cufflinks as a way to put yourself out there and add unique, yet daring pieces to your look. An excellent example is this Merit Ocean Steampunk Watch Movement Shape Cufflinks for Men.
You'd agree with us that this is not your regular pair of cuff links. Its vintage design was intricately done in such a way that although not too big, it immediately catches people's attention. What's more? It is highly versatile, working well for some formal, semi-formal, and casual occasions
Final Notes : What is a French Cuff?
Now that you know what a French cuff is, all that is left for you to do is to find one that you love and you're good to go. Although, they're not the regular everyday shirt, consider them as a must-have for you. Your wardrobe will thank you.
If you'd like to find inspiration on how to style your French cuff shirt with cufflinks, you can check out our Instagram page @thehighestfashioncom. We're all about making men all over the world stand out and helping them make better fashion choices.
We constantly reach over a million men with fashion articles, tips and news, and have done this regularly for about six years now. 
From our blog to our magazine, we live and breathe fashion content and guess what? You are the reason why we do what we do.
Don't forget to tag us in pictures of you in your French cuff shirts to inspire others to reach for their full style potential. We cannot wait to see them!